S+T+ARTS in the City | Artists-in-Residence | Studio Above&Below
+ Challenge
Regenerative AI for Urban Mining
---
---
+ Problem Statement
How can we establish nurturing and circular relationships among the three different intelligences -human, artificial and natural- fostering collaborative symbiosis, allowing a "regenerative" AI to activate urban mining processes of materials and knowledge from the city environment?
---
+ Keywords
Critical Minerals, Regenerative AI, Symbiocene, Mining, Circularity, Material Research, "Advancing" Waste
---
+ Description
Rather than relying on the excavation and exploitation of scarce resources to sustain technologies and AI, humans can instead leverage critical minerals or materials already present in urban environments, extracting them in a manner that embodies a sense of care. On the other hand, there is an urgency to discover new materials that can replace costly-to-extract rare minerals. AI can play a pivotal role in facilitating this symbiotic relationship by aiding in the identification of hidden resources within cities and enabling the activation of circular processes to regenerate them.
The regional context of reference is a big city in Northern Italy (it could be Milan, Trieste, Turin) that holds significant reserves of materials that hold value to machines, products, and processes. This context offers an opportunity for reflection on the intelligence of materials and symbiotic processes between nature, artificial intelligence, and human intelligence, as part of the one great "intelligence" of the city.
These cities can become mines, of materials, knowledge, and data, activating circular processes of self-regeneration facilitated by AI. This includes for example the extraction of rare materials (lithium, cobalt, copper, lithium, nickel, cobalt, and rare earth elements in circulation) from technological waste or alternatively, their substitution through advanced research enabling the AI machines and hardware to be fed, which in turn extract data and provide valuable insights back to the city, to activate circular processes.
This can give rise to a utopian scenario in which human intelligence mediates and integrates the two intelligences (artificial and natural) or a dystopian one where humans are sidelined by the other two intelligences that organize themselves independently.
The artistic prototype emerges from a creative speculation around concepts of sustainability, circularity, and regenerative AI, aligning with the New European Bauhaus. Advancing waste encloses a double meaning of the idea of advanced: you recover something that is advanced but in recovering it you overcome the theme of surplus.
---
+ Artist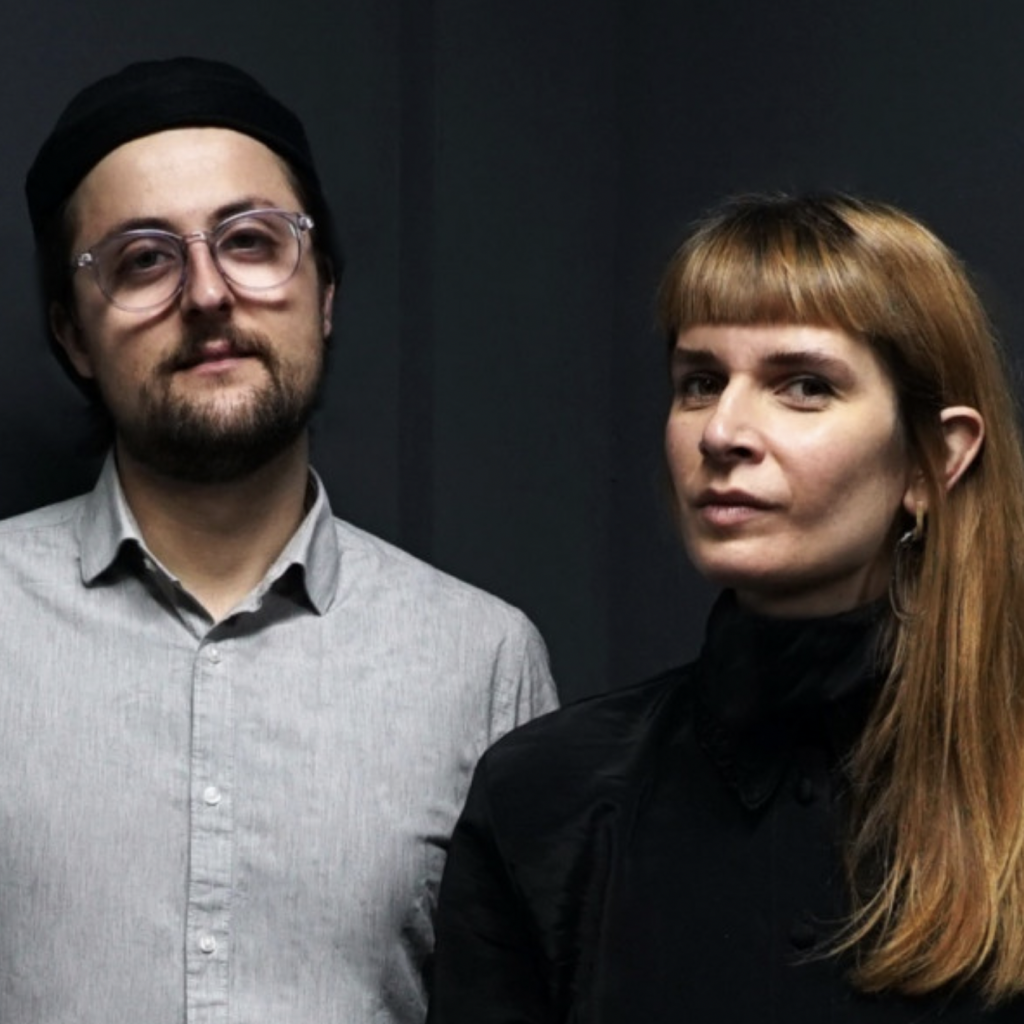 Studio Above&Below is a London based art and technology practice founded by Daria Jelonek (DE) and Perry-James Sugden (UK) after graduating from the Royal College of Art. Their work combines Mixed Realities experiences (XR), digital art and data in order to grow potential connections between humans, machines and the environment – working towards preferred future interactions with our surroundings. Believing in research based art, Studio Above&Below often works with science, technology, communities and ecologies to push the boundaries of digital media for future living. Established in 2018, over the last years the duo has created ground breaking large-scale public artworks using advanced technologies with live data inputs in order to make invisible phenomena visible and give our environment a voice to express itself.
---
+ Residence Project: Regenerative Symphony
An interactive audio-visual installation made of a custom AI model, which uses self-analysis, mineral tracking and market analysis of the northern region of Italy as input data to recognise, decide and predict outputs for an immersive modular installation. An interactive station allows the public to create new recycled objects for a sustainable energy source, through specific prompts. The AI model reacts with prompts, including recycling critical materials from nearby unused e-waste, alternative design decisions that react to desirable trends in sustainable materials, and suggestions on what needs to be returned to the landscape to offload new mineral extraction. While calculating the modular system, the digital experience in the space is reorganised, leading to a new audiovisual.
---
+ Jury Testimonial
"Studio Above&Below's work is extremely consistent with the challenge statement, presenting work that is as valid critically and research-wise as it is artistically and aesthetically."
---