S+T+ARTS in the City | Artists-in-Residence | Mark Farid
+ Challenge
Immersive and Digital Narratives for Climate Change
---
---
+ Problem Statement
Barcelona's historically privileged geographical position is quickly turning into a challenging one: pollution, rising temperatures, and the threat of sea level rise, to name a few, are pressing problems, and to look away is no longer an option. How can digital artistic practices and narratives be part of the solution? How might climate-aware and sustainable art practices help a city like Barcelona prepare for the climate crisis?
---
+ Keywords
Digital Art, Narrative, Climate Change, Immersive, Interaction
---
+ Description
Barcelona is a coastal city heavily defined by its geographical position between two rivers, the mountain and the sea. While historically very well connected to the world and its surroundings, there is no doubt that climate-change related threats could greatly endanger the city life as we now know it.
Beyond greenwashing narrative strategies or superficial visual approaches, this project aims to deal with present and future climate threats such as the rising sea level, heat waves during summer time or floods. And it aims to do it through artistic research, using digital and immersive technologies, as a starting point in the liminal territory where the virtual and the real converge. We encourage a narrative approach, moving from scientific data and facts to emotional engagement. And from here, with a particular focus on digital narratives, to expand and permeate into the real –the city and its inhabitants– through the use of this artistic digital layer.
The ultimate goal is to create one or several artistic artifacts that challenge the current configuration of the city and its local social networks, and provokes some of the much needed change in order to face the unavoidable and the undesirable, in the most positive or, at least, from a position of resilience and awareness.
---
+ Artist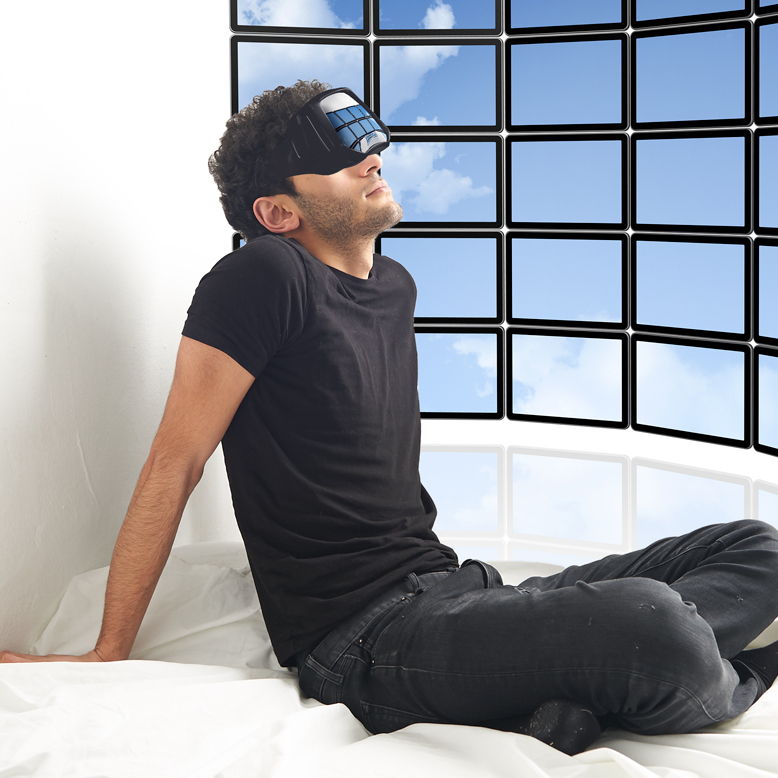 Mark Farid is an Artist, Researcher, and Lecturer in Fine Art at Central Saint Martins, University of the Arts London. He specialises in the intersection of the virtual and physical world, and the effect new technologies have on the individual and their sense of self. Farid's work embodies hacker ethics, such as a focus on privacy policies, use of surveillance technologies, and campaigning for data privacy and protection. His work forms a critique of social, legal, and political models.
Farid graduated from Kingston University, London, with a First Class (Hons) degree in Fine Art (2014), and has since given talks and participated in group and solo exhibitions in England, France, Germany, Spain, Denmark, Finland, Slovenia, UAE, and Japan. He gave a TEDx talk in 2017 about his first two projects "Data Shadow" (2015), and "Poisonous Antidote" (2016). Farid was selected to take part in the Sundance New Frontier program in Utah, USA (2016), for his on-going VR project, "Seeing I". "Seeing I" was piloted as a solo exhibition at Ars Electronica Digital Arts Festival (2019), and was selected for the European Media Artist Residency Exchange, as part of the Creative Cultures Programme of the European Union (2020/21). In 2022, Farid received European Commission Horizon 2020 Research and innovation funding to develop his browser plugin, "Invisible Voice".
Farid's projects have been covered by media outlets worldwide. Farid frequently engages in art and technology conversations appearing on Fox News, Sky News, France24, BBC Radio 4, BBC 5Live, Times Radio, The Telegraph, The Guardian. In 2021, Farid featured as the contemporary "Surrealist Artist" on "Great British Railway Journeys" on BBC2.
---
+ Residence Project: Invisible Voice: Empowering Individuals to Reclaim Their Agency
The Invisible Voice project intersects virtual and physical worlds to lay bare the interconnected systems and flows which perpetuate the structures which have brought about the ecological crisis to make clear the connections between the decisions we make, the institutions we engage with, and the impacts they have. Invisible Voice will develop from a digital prototype into a fully realised and deployed tool (along with a total novel mobile phone app and interactive-art exhibition (see below)) which allows users to see key information about the who the people and business behind the companies are, the sustainability of them, and where the products they consume come from. When browsing the internet on a computer or mobile phone, when the Invisible Voice button is clicked, it reveals an overlay which displays a variety of information about the website and company you are on, from the political and financial connections individuals involved in the business, to their track record of food and agricultural sustainability, labour rights, employee ratings, animal testing and environmental sustainability. It also reveals the links between owners and CEOs to other companies and individuals, political lobbying, B-Corp certification, the media bias of news organisations, their Just Transition rating, Social and Suitability score, their Nature Benchmarks, Digital Inclusion, Environmental, Social and Governance (ESG) risk, Ethical Sourcing, Environmental and Transport analysis, the carbon produce by visiting the website, if the website is safe, what is tracking them, and much more.
Though Invisible Voice has a broad focus, environmental, economic, and human sustainability concerns are at its core. We use verified, open-access data which show their funding and methodology. To date, we are taking information from 21 different data sources which include: the World Benchmark Alliance, Open Secrets, Open Corporates, Wiki Data, Wikipedia, Media Bias / Fact Checker, Yahoo Finance, and many more. This has provided us with information on (at the time of writing) over 400,000 companies. This information allows the user to make decisions with a full understanding of their sustainability concerns, but also allows users to support those who are putting sustainability at the core of their business concerns, bending consumerism and behaviour into a more sustainable form. Far from just being responsive to the requirements of the individuals they engage, institutions will be able to make use of the information which Invisible Voice provides to manage their supply chains and engagements with media with a solid view to sustainability, passing this commitment onto the individuals and organisations that they engage with.
---
+ Jury Testimonial
"This project it is linked to a broader concept of sustainable development, visualises the interests of different companies and proposes a handy app to decipher the complex web of relationships between companies. And it has a good previous development that ensures the achievement of the goals of the project." – Tere Badia
---