S+T+ARTS in the City | Artists-in-Residence | Futurefarmers
+ Challenge
Where Our Food Comes From
---
---
+ Problem Statement
How can we enhance transparency and collaboration in the Brussels food system, ensuring a seamless journey from farm to table? How can digital technologies be utilized to provide consumers with detailed information about the origin, production, and distribution of their food?
---
+ Keywords
Agro-ecologies, Empowerment, Scale, Hinterland, Urban, High-tech, Low-tech, Food Production, Digital Technology, Local, Seasonal
---
+ Description
The transition to a more sustainable food system is a necessity for the Brussels-Capital Region, addressing both global challenges such as nature protection, biodiversity preservation, and climate change mitigation, as well as local challenges related to social issues, health, economy, and employment. Aligned with the Regional Innovation Plan and the Good Food strategyof the Brussels-Capital Region, this residency invites artists to embark on a critical exploration of the Brussels food system and the relation with the peri-urban and rural hinterlands of the city. The project can culminate in artworks, performances, thought provoking actions or innovative applications that empower closer connections between farmers and citydwellers or between producers and local society. We want to engage projects that think about the potential of digital technology and take a critical approach to assessing where technology can offer insights and solutions. A comprehensive analysis of the life cycle of one chosen food product, its specific cultural background or role in the urban life of Brussels and/or linking up the proposal with existing initiatives in the Brussels region are strongly encouraged. By starting from a very specific product (for example, but not limited to plant-based food, animal-based food, artificial/synthetic food and food waste) we aim to make visible local food cultures in order to envisage new ways to grow, distribute, consume and recycle sustainable and nourishing food at local scale.
---
+ Artist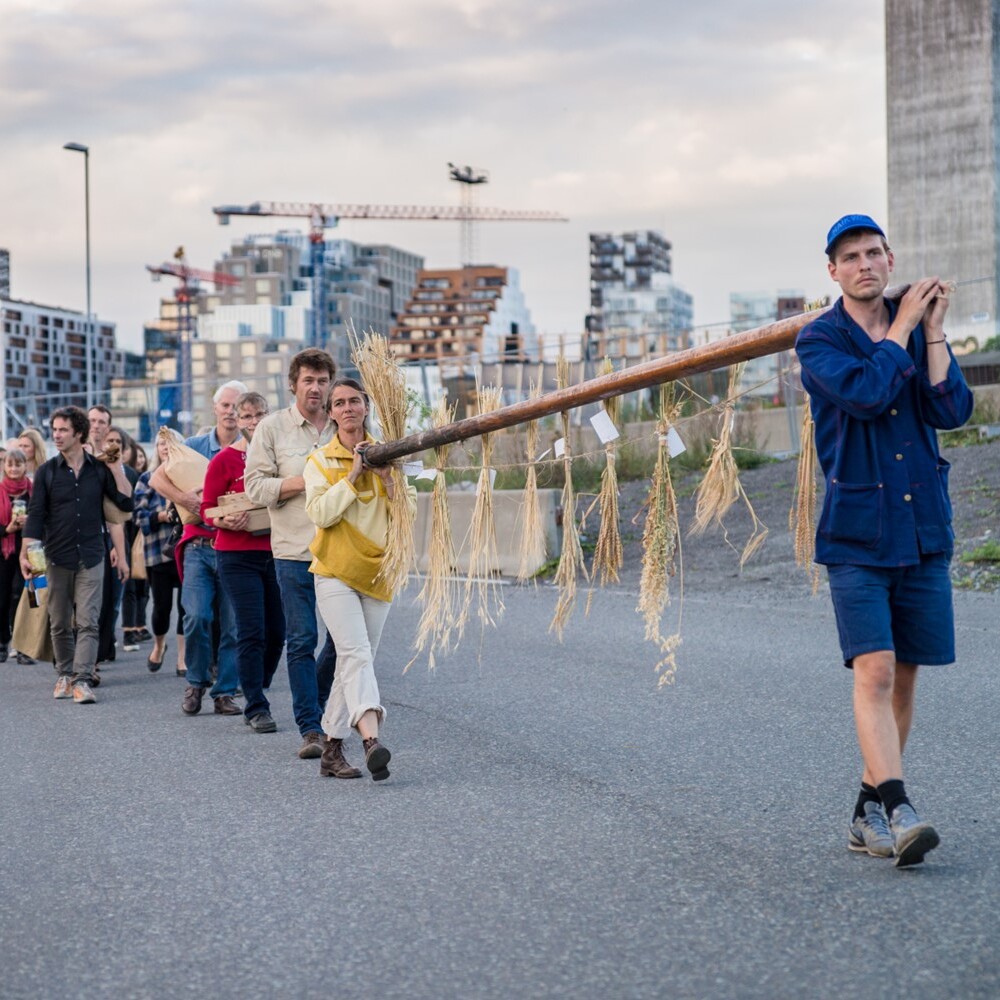 Founded in 1995, in San Francisco, Futurefarmers is a platform for collaboration among artists, anthropologists, writers, designers, architects, and farmers. Together, they create participatory projects that open up spaces and experiences where the logic of a situation disappears—encounters occur that broaden perspectives and destabilize logics of certainty.
Tijs Boelens/DeGroentelaar, Pepingen, BE, is a small farm and is part of a network of farms who grow and distribute organic food to Brussels weekly.
Honore d'O, Artist, Gent, BE, is a professor at KASK School of Arts. In 2005 he represented Belgium at the Biennale of Venice. In 2007 he received the Cultural Prize of the Flemish Community. He participated at international exhibitions e.g. the Biennale of Johannesburg, of Taipei, of São Paulo, of Sydney, of Busan, of Moscow, and the Kathmandu Triennial.
Spectra Shelter (ooooo.be, Claire Williams, AV-net) Brussels/Antwerp, BE is a techno-feminist errant shelter to experiment (dis)functional ways of creating weird circuits using electricity, body's, fluids, electromagnetism, chaotic sounds and magic codes-Repropriating tools and wireless communications, to short circuit patriarchal and capitalist neo liberal technologies.
Inge Braeckman, Writer, Poet, Curator, Gent, BE: During several years she wrote the exposition texts for Galerie De Zwarte Panter in Antwerp and art critics for <H>ART Magazine. In 2009 she debuted with her first collection of poems Beeltenissen and since then she published more than 9 poetry books. She often works together with Contemporary Artist by combining their work of art with her poetry. Since 2019 she started A Space without Walls.
---
+ Residence Project: A(PPP)el: A floating platform for the production and circulation of food and ideas.
A(PPP)el is a solar-powered, floating platform that moves along the Brussels–Charleroi Canal between Halle and Brussels. It is a public sculpture, a living lab and a functional food transport vessel. A(PPP)el transports organic food produced (by a network of farmers in the Pajottenland) and hosts a constellation of artists on board. A(PPP)el is both an artwork and a tool – a call to action to reconsider our food systems, reimagine food production and activate pathways between farmers and consumers. A(PPP)el is literally and figuratively a platform for bringing this conversation into the public sphere. Onboard, A(PPP)el hosts a transdisciplinary group of artists, writers, farmers, policymakers, designers and cyber-feminists. As a site which moves through time and space, A(PPP)el expands the presence of art (and role of art as a transformative practice) into the public domain. The onboard artists move upon overlapping conceptual transects related to systems of food production and consumption and interact with each other's practices forming a total collaborative environment. Each artist will perform their work and open it up to the public through hands-on workshops and public events.
Collaborating Artists:
Futurefarmers, Art/Design/Architectural platform, San Francisco/Gent
Honore D'o, Artist, Gent, BE
Inge Braekman, Writer, Poet, Curator, Gent, BE
Spectra Shelter, Techno-cyberfeminist collective (ooooo.be, Claire Williams, AV-net) Brussels/Antwerp, BE
---
+ Jury Testimonial
"Futurefarmers aims to connect art and technology departing from a collaborative, community and holistic approach. The imaginary of a sustainable boat, combining addressing logistic challenges with the poetic beauty of a boat floating between Brussels and Pajottenland, is fascinating."
---