S+T+ARTS in the City | Artists-in-Residence | David Claerbout
+ Challenge
Reclaiming Our Agency
---
---
+ Problem Statement
AI's increasing presence in our daily lives brings transformative potential but also significant challenges, particularly in the domain of mental health. How might we address the adverse impact of AI on mental well-being and explore the interplay between algorithms, recommender systems, and our mental equilibrium to shape healthier behaviors and thought processes?
---
+ Keywords
Privacy, Data, Automation, Democracy, Digital Agency, Attention Economy, Emotion AI, Mental Health, Digital Rights, Digital Governance, Transparency, Accountability, Accessibility, Data Ownership, Data Extraction, Machine learning, Generative AI, Cyber-Criminality, Digital Threat
---
+ Description
Artificial Intelligence (AI) is omnipresent in our everyday environment, exerting a profound impact that extends well beyond mere technological innovation. Its transformative potential encompasses various facets of our lives and professional endeavors, offering new employment opportunities, enhancing productivity, improving healthcare, and providing solutions to complex global problems. However, alongside these opportunities, AI also presents significant challenges in various domains such as mental health.
The relationship between AI and mental health is somewhat of a double-edged sword. On one hand, AI is increasingly employed as a valuable tool for mental health researchers and neuroscientists, aiding in the comprehension of brain function. The utilization of neuroscience-inspired AI holds immense potential for unveiling novel approaches to treatment, diagnosis, and prevention. On the other hand, real-world events highlight how AI can impact our mental well-being in adverse ways. For example, AI is a crucial tool in the development of the 'attention economy'. Hence, addictive algorithms and manipulative recommender systems have been implicated in influencing behaviors and raising concerns about our mental equilibrium. In the context of our present-day reliance on AI, often unconsciously, we invite artists to explore the interplay between online algorithms, recommender systems, and our mental well-being. The goal of this residency is to delve into the ways AI and other digital domains shape our behaviors, thought processes, and the risk of mental disorders intertwined with how these ubiquitous technologies are being used.
---
+ Artist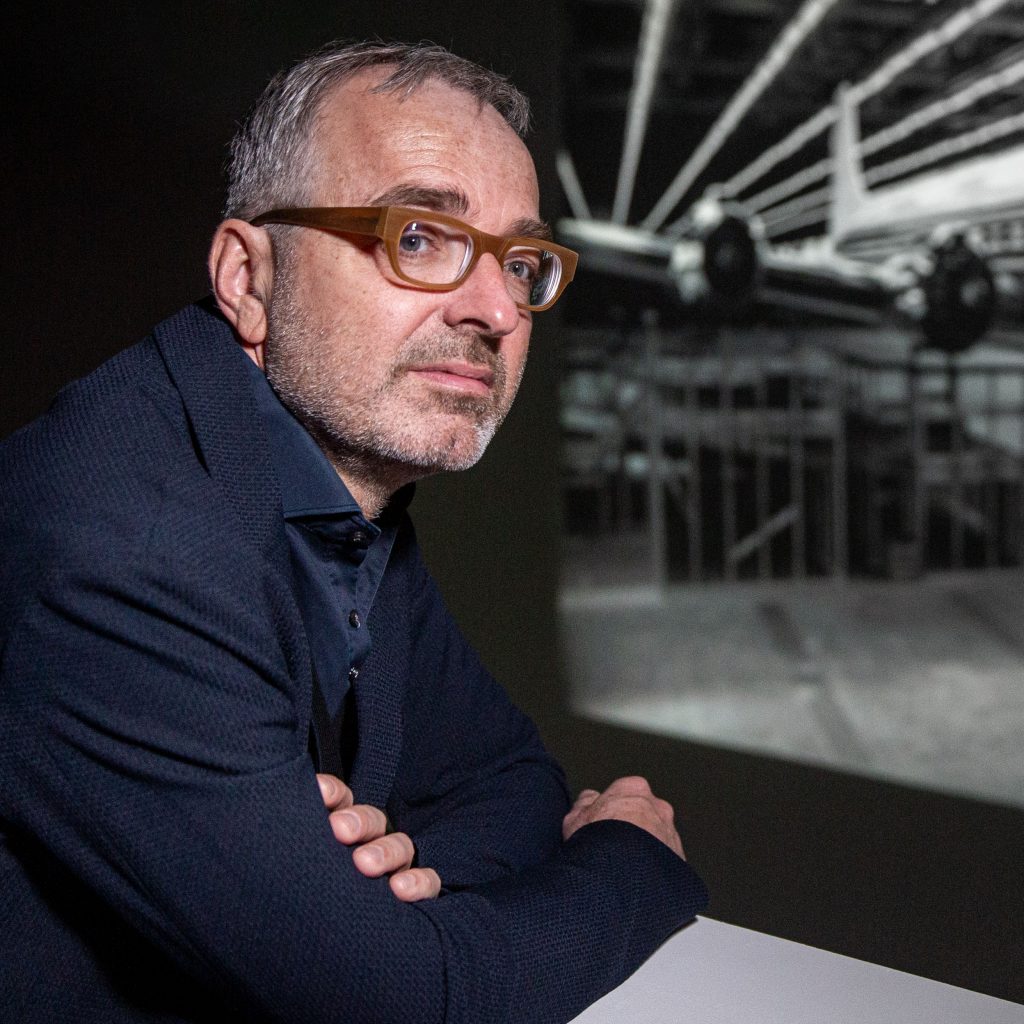 David Claerbout (b. 1969) is an internationally acclaimed artist working in the realm of new media art. Having created his first videos in the mid-1990s, his artistic practice has transitioned since the early 2000s into synthetic image-making situated at the intersection of photography, film, and digital art.
Claerbout has been the subject of numerous solo exhibitions internationally, including: Van Abbemuseum, Eindhoven, The Netherlands (2005); Centre Pompidou, Paris, France (2007); Kunstmuseum, St. Gallen, Switzerland (2008); De Pont Museum of Contemporary Art, Tilburg, The Netherlands (2009) and (2016); SFMOMA, San Francisco; WIELS, Brussels, Belgium (2011); Secession, Vienna, Austria; Tel Aviv Museum, Tel Aviv, Israel; Parasol Unit, London (2012); Nederlands Fotomuseum, Rotterdam (2014); Marabouparken Konsthall, Sundbybert, Sweden (2015); KINDL, Berlin (2016); Städel Museum, Frankfurt (2016); MNAC, Barcelona (2017); Schaulager, Basel (2017); Kunsthaus Bregenz (2018); Kunst Museum Winterthur (2020); and Galerie Rudolfinum, Prague (2020), Taipei Fine Arts Museum (2023).
---
+ Residence Project: Cognitive Immunity
The application for the "Reclaiming Our Agency" call, in collaboration with Proximus ADA, seamlessly builds upon David's enduring exploration of trust systems. Approximately a decade ago, he embarked on a study that culminated in the term "Dark Optics." This conceptual framework delves into our trust relationship with images, shedding light on the potential crises stemming from a confidence breakdown. The erosion of our confidence in photographic images, and its far-reaching implications for perception, cognition, as well as the consequential political, social, and even mental challenges, has emerged as a central theme in both his reflections and artistic pursuits. Examples of this thematic exploration can be found in works such as "The Close" and "Aircraft (F.A.L.)."
---
+ Jury Testimonial
"David Claerbout's proposal builds upon the latest developments in AI: the large models that suddenly catapulted the strength of AI to an unexpected level, both in working with language, images and sounds. For us, the strength of this proposal lies in the process, the journey, that the artist wants to embark on, from language prompts to images and the failures or weirdness that he seems to expect along the way." — Hans Bart Van Impe, Proximus Art Collection
---