In4Art
Re-imagining City Nature
How might we learn to live with nature in the city of Hague?
This residency invites artists to rethink the way in which we can learn to live with those sides of nature which are beyond our sensory limits by using digital technology to understand the complexity of the ecological consequences of our choices. It asks how passion and compassion for nature in the city can be enhanced. The goal is to develop future proof concepts, brought to fruition as prototypes that can act as tools that enable new worldviews and open doors to alternative ways of co-existing within the city of The Hague.
Keywords
Agency, Ownership, Adaptability, Biomimicry, Symbiosis, Senses, Biodiversity
Residency Artists
Grow Your Own Cloud
Grow Your Own Cloud is an art-science collective initiated by Cyrus Clarke (FR) and Monika Seyfried (PL). Since 2017, they have researched possibilities and applications of DNA data storage, exploring the materiality of data and links to climate change, while seeking to demonstrate alternative visions for the future which enrich the user experience.
Their hybrid practice involves an ethics-led process to work with genetic engineering and DNA data storage, in order to develop responsible innovations with potential for real world applications. As such, Grow Your Own Cloud is a collaboration in a multidisciplinary team encompassing designers, artists, architects and scientists.
Grow Your Own Cloud has engaged the public through several award-winning works including Data Flower Shops, speculative biological data centres that serve as spaces to experience DNA data storage. More recently, they developed Data Garden (2020), a functional artistic installation that encodes and decodes data from living organisms, exhibited at events such as Ars Electronica, VivaTech, and galleries such as Bozar, Brussels. In 2020, they were Artists in Residence at Ginkgo Bioworks. Their work has been presented at the WEF and has been recognised by the EU Starts Prize and United Nations.
Penelope Cain
Penelope Cain works with landscape in its widest definition. In particular the colonised, extracted and transformed landscapes of the Anthropocene and the manifest marks of humans on the land. Informed by her research science background, Cain's art practice is located interstitially between scientific knowledge and unearthing connective untold narratives in the world; using video, installation, objects, flags, text, public participation in storytellings about the lands of the Anthropocene.
Cain has a MFA and a background in biological science. She was awarded with the Fauvette Loureiro Travelling Scholarship. Her work has been exhibited in commissioned and curated exhibitions nationally and internationally in Brazil, Britain, Australia, Taiwan, China and Korea, and has an upcoming commission for SACO Biennale, Chile (2023).
Residency Projects
Urban Data Forest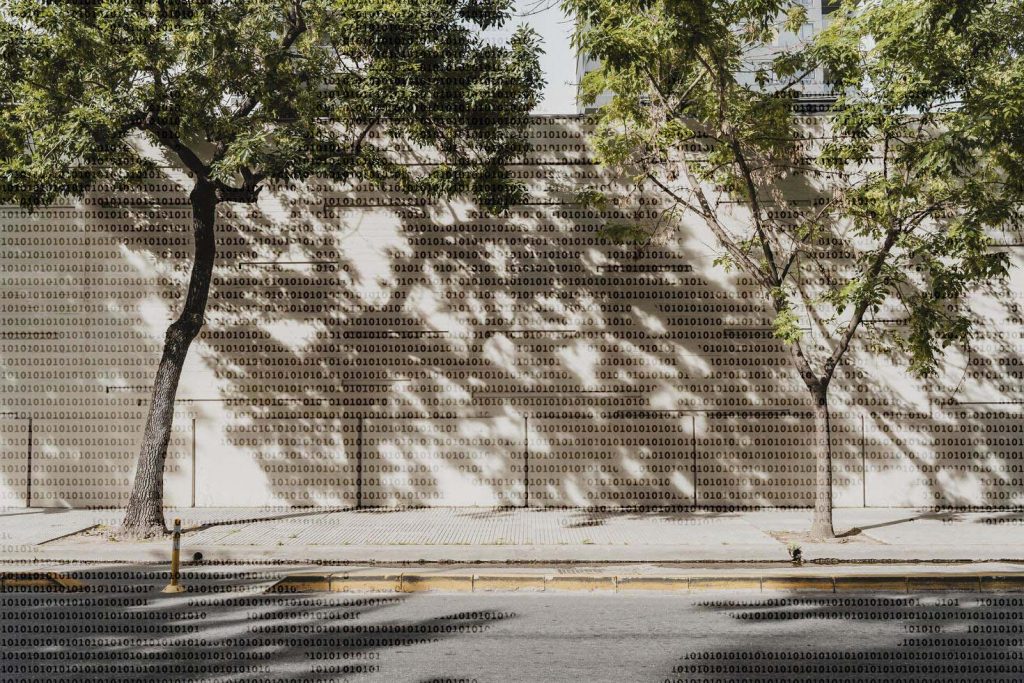 How can reforming human associations with seemingly immaterial digital data, create opportunities to reimagine the nature of cities? Through a new work entitled Urban Data Forest, Grow Your Own Cloud enlarges the scope of previous work in the realm of DNA data storage. While previously focusing on plant-based data storage, this new work seeks to create an ecosystem, connected by fungi, enacting a regenerative and multispecies space in The Hague to rethink data archiving.
In this project, the materiality of data is explored, tracing links between what is considered immaterial data and the highly material aspects of data production, in particular the enormous physical and carbon footprints of cloud data centres. The project will experiment with an alternative materiality for data, developing a biological cloud to offer a highly clean and regenerative way of archiving data, while also questioning the future viability of such technology.
This biological cloud will take the form of an Urban Data Forest, acting simultaneously as an artwork that explores data archival over deep time, a physical space for new types of interspecies interactions, and a technical proof of an emerging regenerative technology. It will propose a new green urban space, with data encoded life grown and cared for by local communities. The aim is to plant the first seed of a potential future in which data centres resemble natural habitats rather than built environments.
Through a combination of technical experimentation, prototyping, collaboration with residency partners and citizen involvement the collective will work on prototyping a future in which sustainable data storage within the city becomes a path to realizing cleaner, greener and more prosperous cities.
For images and more information about Urban Data Forest, check out the S+T+ARTS Residency Archive.
Repairing with Lichen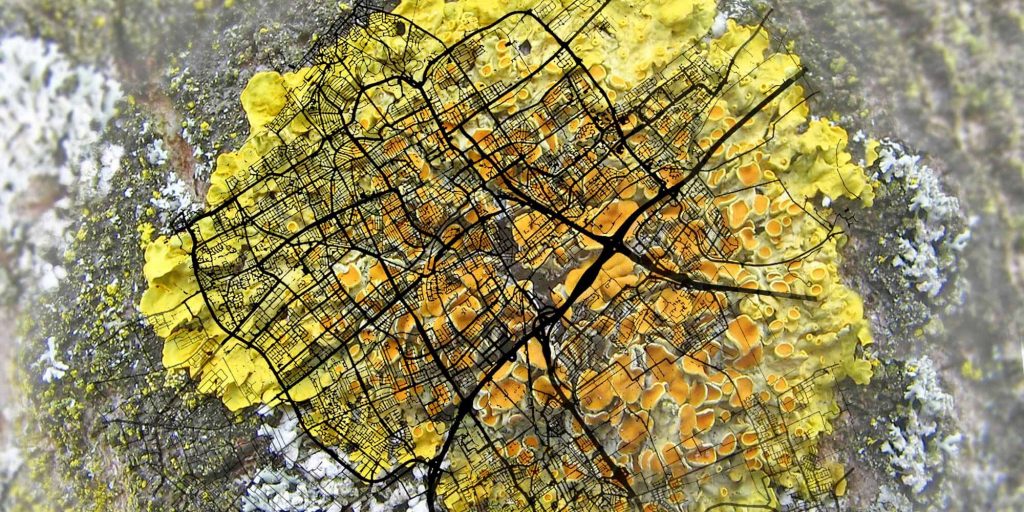 Repairing with Lichen will explore notions around micro-rewilding in 'the city' from a lichen-eye view to reimagine nature in the city.
This project broadly centre's on lichen as a role model and starting point to consider how nature, and interspecies communities in endangered landscapes, can survive and thrive within the Hague, where space is limited and 'nature' controlled. The project will consider the city from a lichen-eye view and search for modes of micro-rewilding. The project will search for the 'nature holes' in the city; the places least likely to have a connection with lichen, and use these as propositional ignition sites for micro-rewilding in the city.
Lichen, as a self-sufficient and symbiotic community of fungus, algae and bacteria, are a model for collaboration and speak to a way of moving forward that looks to interdisciplinarity, partnerships and collaborations between species, for a more-than-human greater good of all. Lichen occupy spaces where plants struggle, such as stones, walls and roof tiles. They absorb atmospheric pollutants such as NO2, SO2, heavy metals and are interspecies biomonitors and witnesses to climate change.
The outcome of this research will be an experimental community-driven gorilla strategy for micro-rewilding, led by lichen. It will have a physical element, such as material experiments and intervention to create bio receptive carriers to promote lichen growth, and a parallel digital/ online avatar of a 'least natural sites', where visitors can experience the micro-rewilding and co-build a rewilding over time: showing its full potential and impact.
Repairing with Lichen resulted in the artwork titled One and the Care of Many.
For images and more information about One and the Care of Many, check out the S+T+ARTS Residency Archive.
Jury Testimonial
Grow Your Own Cloud
The jury decided to select Grow Your Own Cloud as a winner of the Repairing the Present Residency at Regional S+T+ARTS Centre In4Art because their project Urban Data Forest acts on the forefront of a biological cloud revolution which will reformulate our relationship with urban nature and with data in ways beyond imagination. Under the name Urban Data Forest, the collective aims to re-imagine the data cloud by creating the worlds first biological data centre within the city of The Hague. Urban Data Forest is a very creative and imaginative project, raising ethical, technical and societal questions around data storage and their environmental consequences. The potential of technical, social and economic innovation, which lies at the heart of this project, fits perfectly with the S+T+ARTS and New European Bauhaus vision of art manifesting at the forefront of new possibilities and the European Green Deal targets for sustainability and greening European cities.
Penelope Cain
The jury decided to select Penelope Cain as a winner of the Repairing the Present Residency at Regional S+T+ARTS Centre In4Art, because the project Repairing with Lichen proposes a novel and innovative way to merge the physical with the virtual world in order to engage people to their direct urban environments. The project 'Repairing with Lichen' investigates a new layer of imaging the city through the lens of one species: the lichen. It addresses sustainability challenges related to biodiversity within cities, with new appreciation for existing flora, but also through monitoring the carbon uptake and nitrogen sequestration. By introducing the concept of micro rewilding in the 'least natural sites' of the city, Penelope proposes a project which allows for extensive public involvement and scaling throughout cities and urban areas everywhere. The jury sees that the potential impact of this project is enormous since the number of surfaces where it can be applied is huge. Through both physical interventions and digital storytelling, the project aims to realize a mental model shift where lichen can be seen as positive contributors to city life instead of a form of decay.
Local Expert Group