Call for feedback on the first S+T+ARTS collaboration toolkit
The STARTS ECOSYSTEM partners released the first S+T+ARTS collaboration toolkit.
Collaboration between scientific, technological and artistic domains is gaining traction through the world, but actually building a successful cross disciplinary collaboration with a sustainable return for all parties involved is challenging. By gathering experiences from different programmes, such as the STARTS initiative and insights from international experts, the toolkit aims to provide an introduction to a wide range of existing tools to support artists, scientists, technologists and intermediaries on this journey.
The toookit has been introduced on July 13th by Rodolfo Groenewoud van Vliet (in4Art) and Ramona Van Gansbeke (Gluon, STARTS) during a first session where they presented the idea and context behind the tool, and its different parts.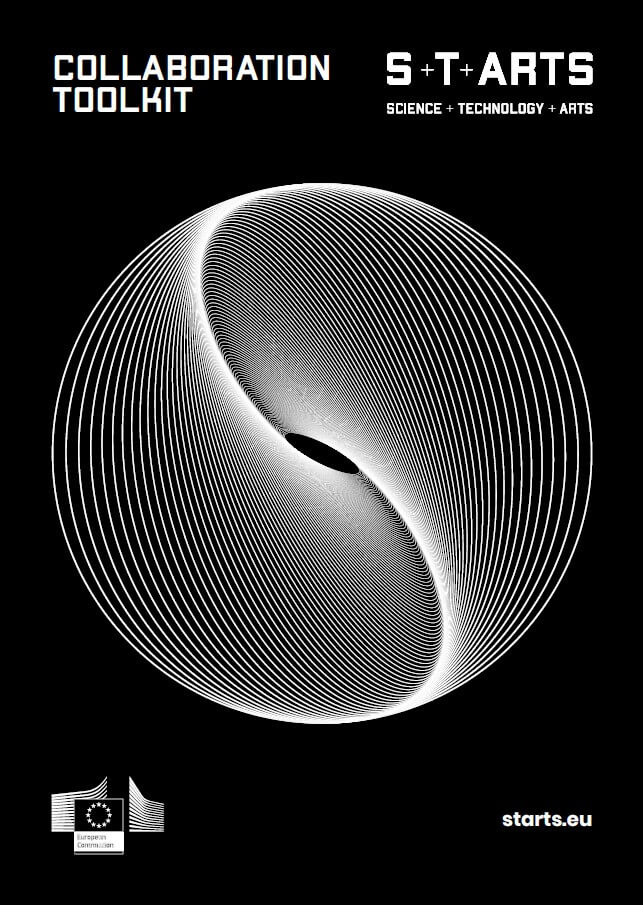 This session was the first of a series of 5 in which we will invite experts to share insights on different phases of the collaboration process.
The reflections led and feedback collected will be used to improve the toolkit and deliver its final version.
Call for Feedback
Besides inviting everyone to attend and participate in the discussions on the STARTS Collaboration Toolkit in the next months, we are calling STARTS Community members to support us and contribute to the improvement of the toolkit, by sharing their experience and provide comments or suggestions on the toolkit.
The objective is to deliver a completed and useful tool to the community of artists, scientists, technologists and supporters interested in fostering Science + Tech + ARTS collaborations. All members (regardless their experience or background) can share their feedback by completing this form. The feedback collected will be used only for the purpose of improving the toolkit and members might keep their answers anonymous.
We would be glad to hear what every STARTS Community member thinks about the toolkit and how it could be improved to better match the needs of the players.
Insight on the Toolkit structure:
INTRODUCTION
ABOUT SCIENCE, TECHNOLOGY AND THE ARTS (S+T+ARTS)
Infographic of STARTS , Brief history of STARTS and overview of STARTS methodologies
OVERVIEW OF THE TOOLKIT
Infographic of the Toolkit
SECTION 1
Points of entry : when a collaboration makes sense
SECTION 2
Models for collaboration: boosting innovation through the arts
SECTION 3
Collaborating: Getting off to a good start
SECTION 4
Methodologies: a step-by-step guide
SECTION 5
Increasing the impact: checklist
CASE STUDIES
Case examples on collaboration
BIBLIOGRAPHY