STATE
New Modes of Mobility
How might we create an open-minded culture towards change and turn Berlin's future of mobility into a collective mission?
The different possibilities and preferences of transport of Berlin's citizens and the use of public urban space are often in conflict with each other. This presents a challenge for the transformation towards a sustainable future of urban mobility in the city. How can we create more awareness and engage the public in a collaborative and inclusive process?
Keywords
Mobility, Urban Future, Inclusion, Public Participation, Awareness, Public Space
Residency Artist
Felix Gaedtke is an artist, storyteller and creative producer currently based in Berlin. He co-founded the immersive storytelling studio NowHere Media with an urge to create spaces for under-represented voices in mainstream discourses. His passion to convey different realities across the world has led him to work with VR and AR storytelling and artistic techniques. A core practice of NowHere Media is co-creation; ensuring the people involved in a story are at the forefront throughout a project's production. His most recent work KUSUNDA takes you into the lives of an indigenous group in Nepal and their fight for language reclamation and was produced through close collaboration with the indigenous community. He is a Sundance New Frontier alumnus and has won 'Best Storyscape' at Tribeca, 'Best Use of Immersive Arts' at SXSW as well as the Lumiere Award for 'Best VR documentary' among other accolades. Felix's immersive works have been exhibited at the Venice International Film Festival, SXSW, Cannes XR, the UN, HotDocs, Bergen International Film Festival and beyond.
Residency Project
Berlin 2037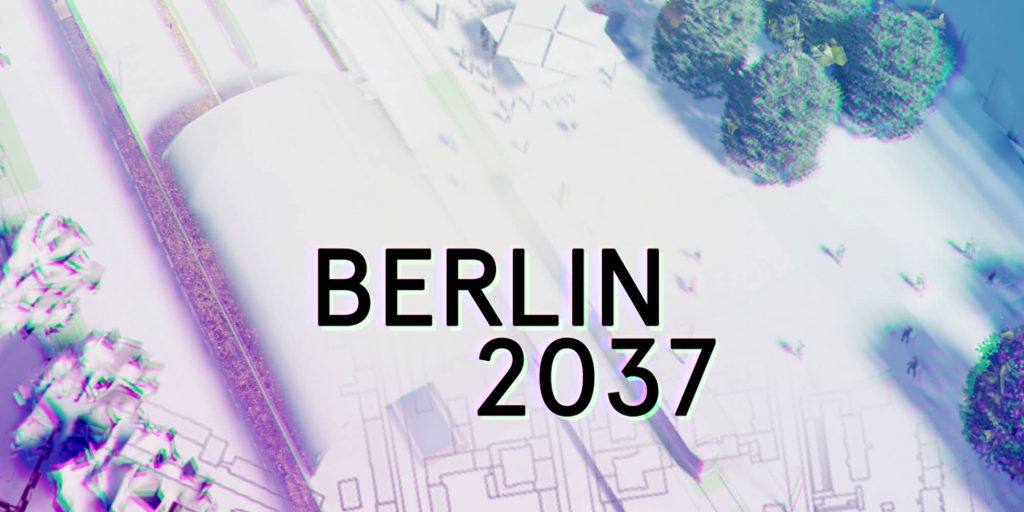 Berlin 2037 is a multisensory cyber-physical installation that connects a bicycle to a virtual reality headset.
In the fictional narrative experience, you meet 14-year-old Maya (played by Helena Zengel), a computer and 3D animation nerd living in Berlin, who has just met with a bike accident. Determined to use her skills to transform her city, Maya sets herself a mission: to create a virtual version of her city situated in the year 2037 when the city will turn 800. A city that's child-friendly, safe and sustainable. With this, she wants to win the newly announced Better City Challenge* next year…
… And you are invited to test her version of the city. You pedal the bicycle in your real world to steer your virtual journey into an alternative urban universe with fewer private cars, exclusively sustainable energy, new forms of housing, new forms of work. Based in Berlin, the virtual world combines large scale photogrammetry scans of the city today with imagined, futuristic CG animations to tell a scientifically sound story.
The experience gives you food for thought — can we imagine a sustainable and thriving future for all of us? How can we get there and what may be the hurdles?
For images and more information about Berlin 2037, check out the S+T+ARTS Residency Archive.
Jury Testimonial
The project "Berlin 2037" is of extraordinary quality with a high expected impact. We are convinced that the S+T+ARTS Residency can contribute an essential element to the project. Through the exchange with our Local Expert Group and with the public, the possibility arises to go further in-depth with the underlying research. Felix Gaedtke's contribution to an inspiring vision of the future is convincing. The project has the ability to overcome the limitations of physical space by creating a virtual world that manages to physically activate the viewer and at the same time send him/her on a mental journey into a desirable future. His work has the potential to be a catalyst for real change.
---
Flow of Berlin
How might we rethink our relationship to Berlin-Brandenburg's water to maintain a livable and sustainable future for all human beings, animals and ecosystems?
The condition of Berlin's water bodies is far from optimal and further threatened by multiple anthropogenic impacts and the accelerating climate crisis. This raises concerns and calls for radically new approaches to rethink our future relationship with Berlin's most vital resource and connected ecosystems among competing political, economical, environmental and social interests.
Keywords
Water, Pollution, Climate resilience, Public participation, Awareness
Residency Artists
Anja Lapatsch and Annika Unger are Studio Lapatsch|Unger, a design duo based in Berlin. Their research-based work explores material cultures and cultural phenomena revealing layers of knowledge between the past, the present and the future resulting in critical reactions and envisions of future scenarios within historical, ecological and cultural contexts. Their work has been exhibited internationally, including the ZKM in Karlsruhe, the Gewerbemuseum Winterthur, the Bauhaus Dessau Foundation and London Design Biennale. They are lecturing and heading workshops in various Universities and Institutions around the globe. Both are teaching as Artistic Associates at the University of the Arts Berlin (UdK).
Johanna Schmeer is a designer and interdisciplinary researcher based in Berlin. She is a professor of design at Folkwang University of the Arts. Her inquiry-based work explores technologically augmented ecologies, industrial flows of matter, and the reframing of the human within its interspecies, geospatial, and technosocial entanglements. She holds a degree in Digital Media from the University of the Arts Berlin (UdK) and a MA and PhD from the Royal College of Art London. Her work has been awarded, and exhibited internationally, including at the ICA in London, the National Museum Stockholm, the Venice Biennale, and Ars Electronica Center.
Residency Project
Bodies of Water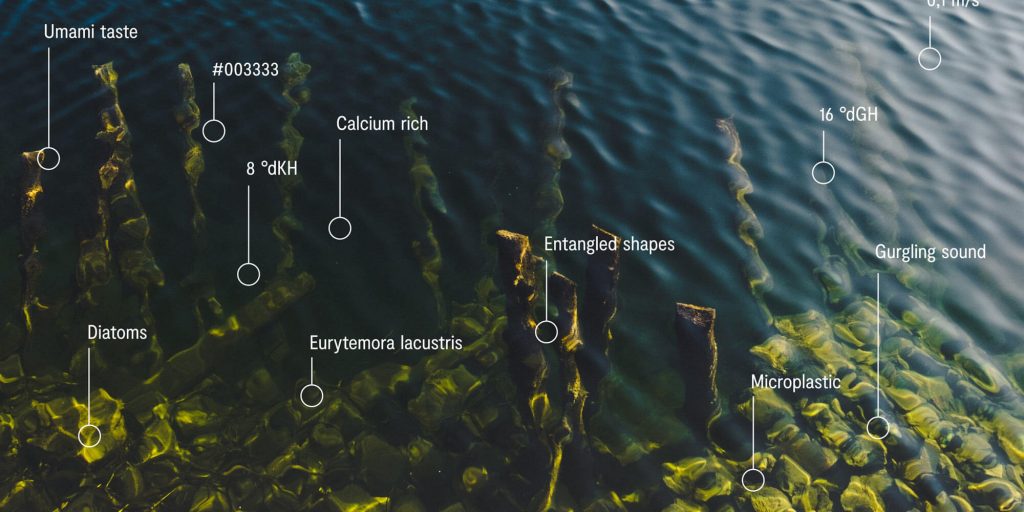 Bodies of Water directly relate to our human bodies. Our bodies contain 60% water and it is through drinking water and ingesting food grown with this water, that we ingest and swallow the world around us – and with it its nutrients, microorganisms, and contaminants.
How can we create more awareness around water and its regional origins? How can we make the differences and complexities in water qualities and contents become accessible in a multisensory way?
As part of the S+T+ARTS Repairing the Present programme, we will create an experience-based participatory artwork, creating an archive of water samples and data from Berlin-Brandenburg's water bodies and combining these into a multisensory installation.
The project aims to provide access to the Berlin-Brandenburg's water bodies – through listening, tasting, sensing and perceiving we gain a valuable understanding that enables us to transpose temporarily into the local aquatic environment.
Through a process of participatory workshops, we will explore ways to translate scientific knowledge and data of the local water ecologies into a multi-sensually perceptible experience for the public.
For images and more information about Bodies of Water, check out the S+T+ARTS Residency Archive.
Jury Testimonial
The concept for "Bodies of Water" makes exciting use of the Residency's resources. The artist collective Annika Unger, Anja Lapatsch & Johanna Schmeer manages to interconnect the existing network, exciting technologies and the public. The project directly addresses the ambivalent and sometimes problematic relationship of the people in Berlin to their water bodies and involves the public in their process through a convincing participatory concept. The concept includes, among other things, a sensory experience and visualization of the physical and chemical properties of water. The artists' previous experience and past projects illustrate their expertise in implementing artistic projects at the interface of science and technology.
Local Expert Group