Onassis Stegi
Smart Agriculture
How might we empower rural areas as role models of sustainability & prosperity through the use of technology?
Farmers comprise 12% of Greece's workforce but produce 3% of the country's GDP. How can technology bridge agriculture with the economic & social prosperity of the farmers themselves, their local communities and the citizens of urban areas while at the same time making use of traditional forms of knowledge that take the specific ecosystems and cultivars into account?
Keywords
Sustainability as a measure of success, Regenerative agriculture, Health & food security, Decentralization, Empowerment of farmers
Residency Artist
Hypercomf is a multidisciplinary conceptual design artist identity, researching the relationship between nature and culture, domestication, industry, and science. This identity first materialized as a fictitious company profile in Athens, in 2017. Hypercomf's practice is both research and production-driven, each subject informs a continuously developing narrative starring organic and inorganic protagonists which manifest through interdisciplinary collaborations and community engagement methods of production, space activations, multimedia artworks and sustainable design objects.
Hypercomf is currently completing a residency with Archipelago Network on Syros island (2021-2022) and the "Studiotopia" program organized by Onassis Stegi (2020-2022), the presentation of "Biosentinel" as part of the project "La Table et la Territoire" organized by Locus Athens Tavros, Athens (2021), and "Resonate" on Tinos island supported by the Stavros Niarchos Foundation Public Humanities Initiative at Columbia University (2020-2021). Examples of other recent participations include the 7th Athens Biennale "Eclipse" 2021, the Pioneer Works Visual Arts Residency Program, Brooklyn, NY(2019-2020), the online exhibition "Anthropocene on Hold", Polyeco Art Initiative, (2020), Lago Film Festival 2020 (Veneto Region Special Prize), Lago lake, IT, "Στάση-Taking a Stance" 7thThessaloniki Biennale of Contemporary Art (2019 -2020), "Super Host" curated by Like a Little Disaster and Pane Project, Polignano a Mare, IT(2019), "Overexposure" 7th Syros International Film Festival (2019) , "Wasn't it you who said that it was going to last forever" curated by Hypercomf, HausN, Athens, 2019. They are recipients of Artworks (2019) and Fulbright Fellowships (2019-2020) and have been shortlisted for the COAL prize award (2020).
Residency Project
Peanut Pod and Film Seed Festival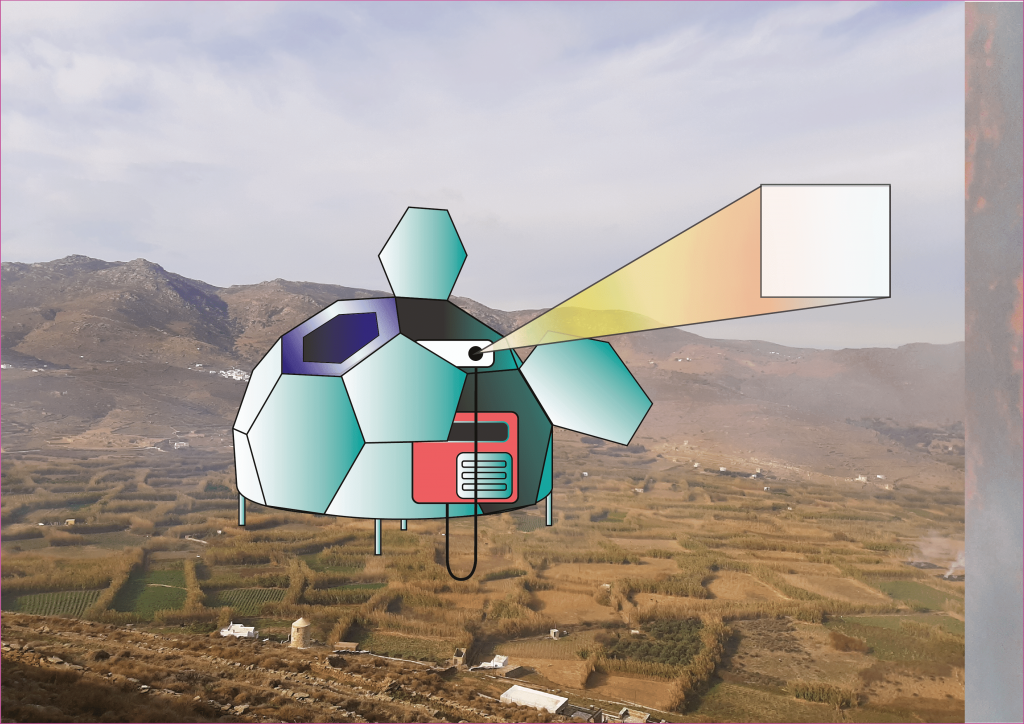 "Peanut Pod" is a smart IoT agriculture pod that makes it possible for a farmer to produce the situation of Film Seed Festival, a peanut-crop-powered, open-field, eco film festival "Film Seed Festival".
Peanut Pod's smart technology specializes in peanuts, and it contains the components required to provide a farmer with precise sensor data from his land's soil and plants as well as meteo data, allowing him to make informed decisions on watering and fertilizing for optimum yield production with minimized resource and labour requirements. After the crop has been harvested Peanut pod enables the direct farmer to consumer, and consumer to field interaction, allows the farmer to make full use of his land's resources, practice circularity tactics and reclaim the harvest celebration ritual in modern terms. Using a small part of the harvested crop as peanut oil converted to biodiesel and the generator and projector contained within Peanut pod the peanut field turns into an open-air cinema where the farmer can welcome people from the community and offer the product of roasted peanut snacks to the viewers using the larger part of his crop. Towards building culturally and agriculturally resilient small scale communities, empowering farmer and locality economic independence and viable practices using sustainable methods in tune with the changing climate and technological advances.
For images and more information about Film Seed Festival, check out the S+T+ARTS Residency Archive.
Jury Testimonial
As Jury, we decided to select Hypercomf as the winner or the Repairing the Present Residency at the Onassis Stegi Regional S+T+ARTS Centre, because they submitted a great proposal for an innovative project that brings together traditional agricultural techniques and the use of modern technology. The project has a clear social and environmental impact. It aims to culminate in a functioning prototype with all features included but it will also utilize the know-how offered by the residency partner in order to make use of IoT technologies in the best way possible. An important asset is that the Hypercomf team is already part of a rural community at Tinos island which will enable them to reach out to local farmers and engage them in the project. At the same time, due to the excellent track record of previous works and their experience, they will be able to reach out to research partners and experts beyond the island.
---
Virtuous Circles: Schools as Catalysts for Sustainable Neighborhoods
How might we engage school communities with the practices of a circular economy both locally and globally by encouraging innovative design thinking through the use of advanced technologies, participatory creative research, storytelling, and contemporary artistic media?
Currently, circularity is gaining ground as an inevitable choice. We aim to galvanise awareness within our educational structures, as youth are the heirs of this system, by fostering the investigation of new models of participation on environmental issues, focusing on circularity, transforming our habits and our communities.
Keywords
Youth empowerment, Circular policies, Prototyping – Design thinking, Peer-to-peer/Collaborative practices, Open modular design/technologies
Residency Artists
Unit Lab is the creative partnership of Cindy Strobach and Mike Vanis. Based in South London, they design objects, installations and workshops that bridge science, art, and the natural world.
Previous projects include a playground that plays with perspective and distortion (Anamorphic Playground), a ruler that measures both length and weight (Gravity Ruler), and renewable energy workshops for primary school students in London.
Cindy is a graduate of the RCA and her personal work has been published and exhibited widely including Frame, Droog in Amsterdam, and Milan Furniture Fair. She has 5 years of experience in teaching young people making skills at Goldsmiths University of London. She designs and delivers workshops for schools and regularly volunteers
as a STEAM girls ambassador.
Mike graduated from Design Interactions at the RCA. He started his career as a creative technologist at Tech Will Save Us, an edu-tech startup. In 2015 he headed the design of the BBC micro: bit, a device that was given to every year-4 student in the UK for free. In the past years, he has collaborated on multiple open-source self-build projects, such as DIY wildlife cameras, environmental sensors for the Natural History Museum, and bird tracking feeders for ornithologists.
Residency Project
Green Club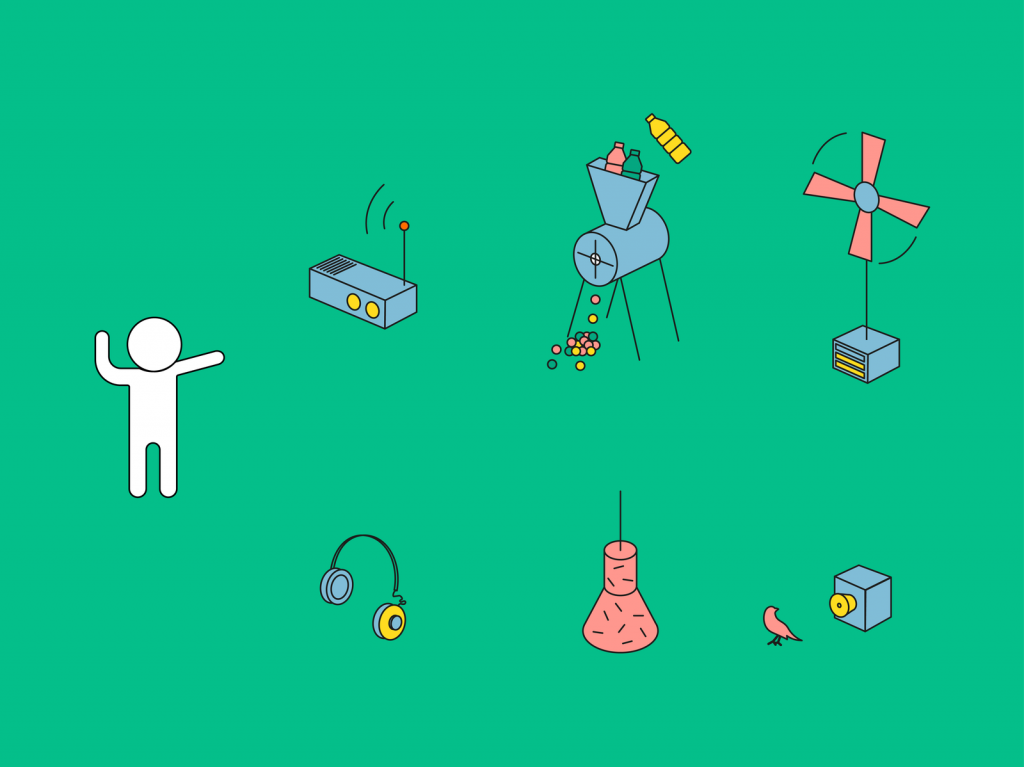 Unit Lab will prototype an online platform where schools, teachers and students in Greece can share their ideas, projects, and data about circular economy with each other. Schools will be given the tools to collect environmental data, students will be empowered to share their ideas and teachers will gain access to a wide range of resources to enrich their classes.
Through a pilot after-school club run by designers and scientists, students will explore renewable energies, biomaterials, waste, repair, environmental data collection, and urban nature. In collaboration with teachers and circularity experts, we will evaluate the outcomes of the after-school clubs and formulate lesson plans that bring sustainability into the school curriculum. The learning resources will be accessible to any school in Greece through an online platform, through which schools can share their inventions and outcomes.
Measurements from their environmental sensors will form a universe of open sustainability data, accessible by anyone.
Our goal is for students to gain a practical understanding of sustainability and circular economy practices. By installing their inventions in their neighbourhood, they will inspire their community to engage with circularity. Working with everyday challenges to improve circularity, they can apply their learning within their own context. We hope this leads to a change in habit, a better understanding of their surroundings, and a willingness to protect it and tell others about it.
For images and more information about Green Club, check out the S+T+ARTS Residency Archive.
Jury Testimonial
As Jury, we decided to select Unit Lab as the winner or the Repairing the Present Residency at Regional S+T+ARTS Centre Onassis Stegi, because they presented a strong, grounded proposal. The UnitLab team had a highly creative and inventive approach and clearly a relevant background and experience in working in education and with schools abroad. The project is a good fit with the challenge and the circularity theme is quite central. Another strong point is that the proposal includes excellent experimentation and prototyping through well-structured workshops that are easily replicable. In addition, the lesson plan development aspect is important in terms of longer-term applications and engagement. Last but not least, the team has onboard a team of collaborators with great expertise and skills who would certainly benefit students with their creativity.
Local Expert Group