MEET DIGITAL CULTURE CENTER
Preserving Co-evolution
How might we preserve the co-evolution of the species by enhancing the capacity of micro and macro communities to be resilient when challenged by diversity?
Cultural, biological and artificial diversity generates contaminations in the co-evolution processes, with new interrogatives about how to stimulate resilience and inclusive sustainability that can lead humanity to find innovative answers to questions such as how can we live together in a changing ecosystem and how can we preserve the future of our planet.
Keywords
Co-evolution, Sustainability, Resilience, Inclusion, Communities
Residency Artist
Sissel Marie Tonn is a Danish artist based in The Hague (NL). In her practice, she explores the complex ways humans perceive, act upon and are entangled with their environments. Her work centres around moments of awareness and shifts in perception, where the boundaries between our bodies and the surrounding environment begin to blur.
Tracing and capturing these moments often result in hybrid, interactive installations and objects, where the audience is invited to engage in a sensory and participatory way with the stories and data at hand.
She imagines her work as "training grounds" meant to challenge our pre-configured modes of perception, attention, and sense of self, and shed light on how our biology, as well as our cultural conditions, influence the ways in which we perceive and subsequently act upon our surroundings.
In 2016 Sissel was the recipient of the Theodora Niemeijer prize for emerging female artists, resulting in her first solo show at the Eye in Van Abbemuseum, Eindhoven.
More recent engagements include commissions for Sonic Acts and AND Festival in 2021.
She received an Honorary Mention for the work The Intimate Earthquake Archive in 2020 at Ars Electronica and won the BAD award in 2020 with Juan Garcia Vallejo and Heather Leslie.
Residency Project
The Sentinel Self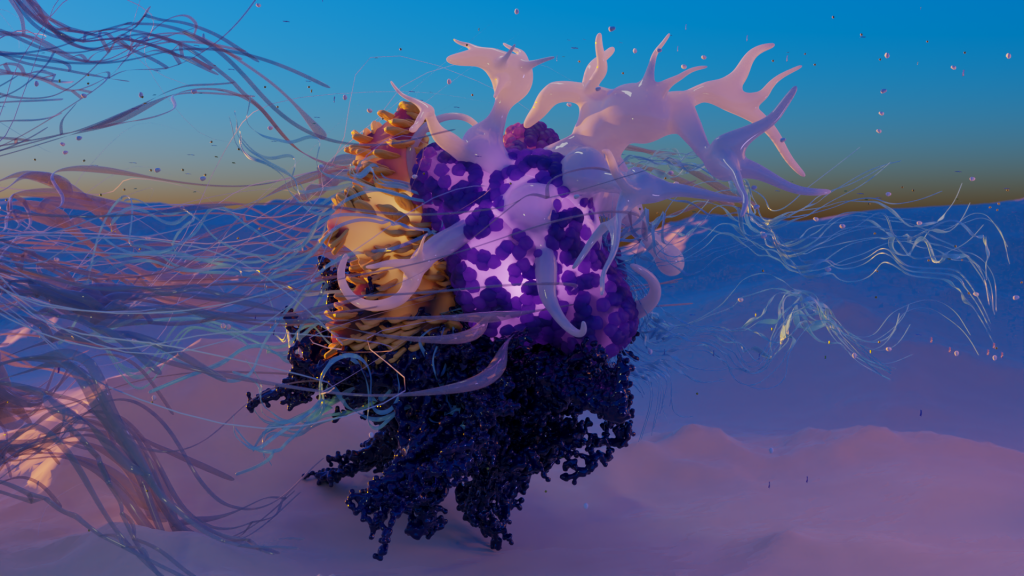 The biggest challenges of our time – mass extinction, viral pandemics and climate change – remind us that we are intrinsically interconnected with our ecosystems. The Sentinel Self prompts us to reconfigure our notions of 'selfhood' to rekindle this interconnectedness, showing the interdependence on our microbial kin, and how environmental contaminants are a shared concern across all 'sentinels'.
The Sentinel Self is inspired by dynamic behaviours of human cells interacting (and co-evolving) with microbes and external "others" such as pathogens and microplastics. It explores immunological processes within the body that challenge our culturally informed notions of 'selfhood', evoking us to rethink the binary division between self and non-self. Collaborating with scientists specialized in microbiome metagenomics and immunology, I intend to implement algorithms and machine learning systems that model the material basis of selfhood as drivers for an immersive interactive installation.
In the installation, we meet interactive storyteller, The Sentinel Self – an abstract 'avatar' that embodies these processes in a real-time game engine. The Sentinel animates an environment of forms and movement based on metagenomic models of the microbiome, as well as artificial immune system simulations. It induces a strange, ephemeral and beautiful entity, shapeshifting as it interacts with the audience. Inspired by recent neuroscience research into the influence of interceptive signalling on the subjective experience of self, the audience can self-identify with The Sentinel, and influence the story through sensor input of autonomic signals such as heart rate. Their inner body signals, which influence the cognitive construction of self and body ownership, will be the connecting point to foster a more intuitive understanding of self.
For images and more information about The Sentinel Self, check out the S+T+ARTS Residency Archive.
Jury Testimonial
As Jury, we selected Sissel Marie Tonn as the winner of the Repairing the Present Residency at Regional S+T+ARTS Center MEET, because her project is fully coherent with the regional challenge and with a great innovation potential also to impact the scientific research on genomics. It is also consistent with the current times and global challenges, related to the resilience of humanity as challenged by external agents. The way of implementation is realistic and the feasibility of the project is clear, supported by a coherent work plan and budget allocations. The artist demonstrates to have the experience and the reliability to reach the foreseen expected results and outcomes. The prototype uses digital languages and tools for an immersive and interactive experience, integrating aesthetic values and the active participation of the audience.
---
Repairing the Urban Fabric
How might we demonstrate that a "repaired" urban fabric could, not only be more resilient against external pathogens but also be a vector of healing and wellbeing that draws strength from the social proximity and complexity?
The artist is invited to face the challenge of the anthropic, biological and artificial transformation of an urban ecosystem, in response to the incursion of external elements (like viruses but not only) exploring how to prevent and weaken the impact of the external agent on the urban fabric, boosting an ecosystem decolonized from pathogens and polluters.
Keywords
Decolonizing, Urban fabric, Proximity, Natural/artificial, Coexistence
Residency Artist
Markus Jeschaunig, *1982 in Graz, Austria, lives and works in Graz and the Biosphere. Trained as an architect and fine artist Jeschaunig's art practice deals with relations between humanity and the environment. Inspired by the dynamics and forces of the lithosphere, hydrosphere, atmosphere and biosphere the artist seeks to decipher natural, social, spatial and economic systems. In the language of contemporary art, his works evolve between the poles of ecology, landscape, urbanism and technology as well as public space and activism.
Jeschaunig studied art and architecture at the University of Art and Design Linz, Mimar Sinan Fine Arts University Istanbul and Vienna University of Technology. He graduated in architecture from the University of Art and Design Linz in 2010, completed an internship in the office of Christian Kerez in Zurich in 2011. He founded his fine art studio 'agency in biosphere' in 2012. Since then, various national and international art exhibitions and projects. Jeschaunig is co-author of "breathe.austria – Austrian pavilion at Expo 2015 in Milan" (as part of 'team.breathe.austria'). He is co-founder of the transdisciplinary Think-tank 'breathe.earth.collective' (2015 to now).
2019: Architecture Prize of Styria 2019 (honorably mention) AT
2018: Outstanding Artist Award 2018 – Experimental Tendencies in Architecture, Federal Ministry of Culture, Vienna (as part of BEC) /AT
2017: BAUWELT PREIS 2017, Muennich/Berlin / DE
2014: State prize beautiful books Austria 2014, 'winner'in the category "art book" / AT
Residency Project
Urban Climate Oasis Milan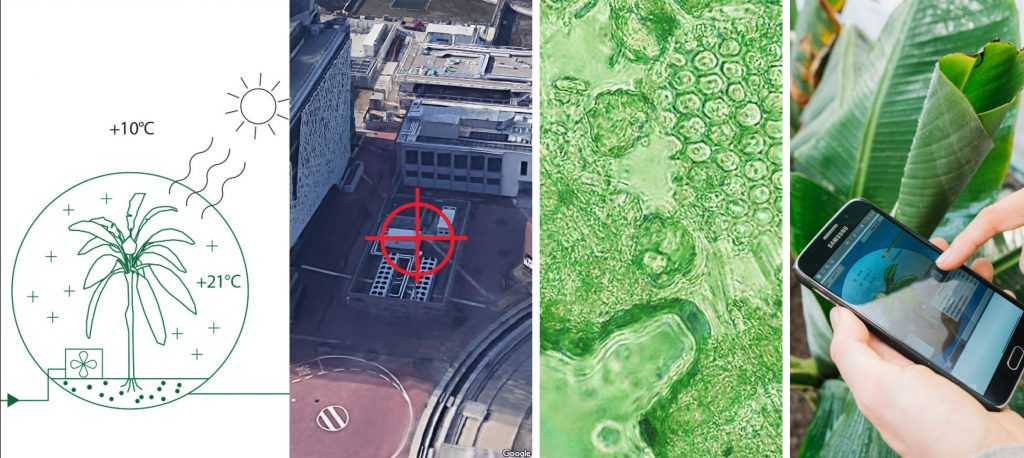 The project "Urban Climate Oasis Milano" intend to implement a climate productive and participative prototype to grow micro algea for scientists in Milan by using waste heat. Due to its large heat emissions, the data center building – located next to the science partner institution – in Rho-Fiera, offers an ideal showcase to use waste heat and to create a new scientific and social Climate.Oasis in Milan by a combination of different technologies and disciplines.
Harvesting waste heat (Server energy) all year long allows cultivating plants, vegetables or in the case of the science partner building (Human Technopole) to grow "micro algaes". It creates the chance to:
a) express climate issues in form of a highly aesthetic way in public space
b) involve scientists, the general public in a participatory and multidisciplinary process
c) create energy circles in form of an operating art installation (future resources solutions)
The data center has an estimated heat energy output of 100 KW all over the year (not used yet!). Comparison ==> an energy equivalent of 6 single-family homes (15 KW, ex. erected in 1980ies) Exact location at the former Expo ground in Rho-Fiera next to the Italian Pavillon at the ground floor level and also on the rooftop level. There the prototype should be built.
Final outcome
Due to the Algea species needing warmth and light to grow, the urban oasis could provide a new -energy autarchy- science facility. A zero-energy research lab for scientists from Human Technopole. Project mission: generate awareness for climatic processes in the local urban neighbourhoods by a public participation programme. (Timeframe: autumn/Winter period 2022)
For images and more information about Urban Climate Oasis Milan, check out the S+T+ARTS Residency Archive.
Jury Testimonial
As Jury, we selected Markus Jeschaunig as the winner of the Repairing the Present Residency at Regional S+T+ARTS Center MEET, because his project is a perfect example of a New European Bauhaus vision, integrating sustainability, aesthetics and participation into the interdisciplinary collaboration among the artist, the researchers and the technology. The project has a great innovation potential in terms of sustainability and circularity, reducing energy waste – also cause of digital pollution – to nourish plants that will nourish the research on human health. The project is fully coherent with the regional challenge and with the residency partner. The outcome is a complete prototype that the artist, according to its experience and vision, demonstrates to be able to accomplish.
Local Expert Group