CCCB
Microorganism Cities
How might we integrate microorganisms to design more sustainable cities?
Microorganisms are key ecological actors. They play a significant role in the sustainability of ecosystems and the health of all organisms, human and non-human. But despite that, they are often disregarded or deliberately removed in the design of our cities. How can we invite microbiota back into urban design?
Keywords
Urban ecology, Biodiversity, Regenerative urbanism, Microbiota, Sustainability
Residency Artist
Samira Benini Allaouat is a trans-disciplinary artist, fascinated by old technologies and knowledge with new contemporary applications.
She is also into the maker and DIY philosophy, questioning stereotypes, taken-for-granted social behaviours and systems, exploring new paths of bending and blending elements, researching and testing low-tech solutions to build a more resilient future perspective.
Coming from a 25 years radical urban art background and from moving image design, her favourite medium is the city. The spectrum of her art practice is quite wide and she has internationally achieved a large number and different typologies of performances, exhibitions, publishing projects and events under different pseudonyms, also anonymously.
Digging more in-depth into paradigm-changing, she is conveying wider aspects of human life sustainability and a new ethical approach in art and design.
In the most recent case, she identifies electricity in nature and automation as the leitmotif of her research, such as her "No Plug Sound Machine" where the question was "How to make electronic music without conventional electricity?". The artwork has been exhibited at the Tate Modern Museum with her collective Hackoustic from London HackSpace, at London Urban Street Hackaton 2015, presented at the Aberystwyth Art Center and performed at Ausland, a reference for underground culture and experimental music in Berlin.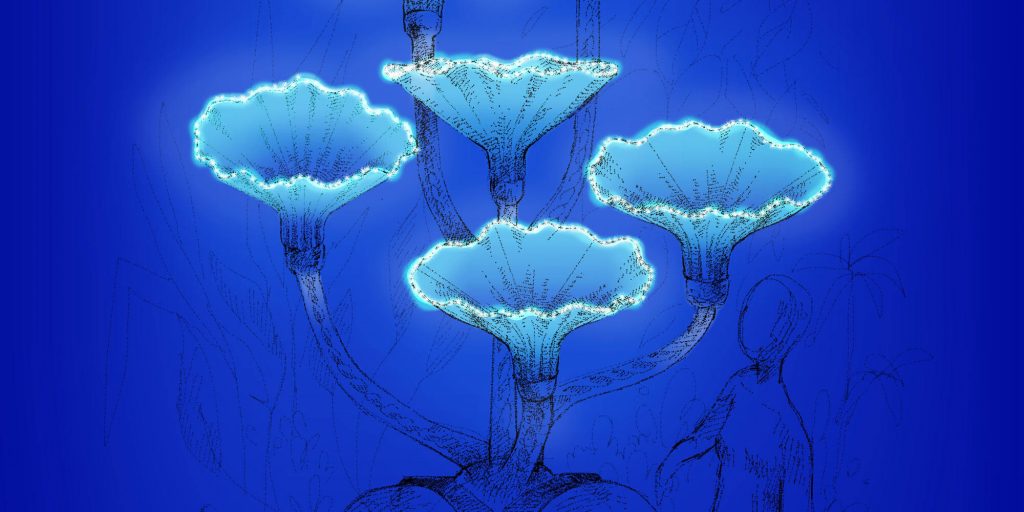 Residency Project
GEO-LLUM
The project aims to reimagine the role of public lighting in urban spaces with a symbiotic relationship between the artificial and the natural world, focusing on a deeper understanding of the fundamental importance of nature as a collaborator in the city.
The final work consists of a light sculpture that can facilitate different tasks in order to create an autonomous and hybrid performative artwork.
The structure will be built with recycled elements, partially 3D printed with biomaterials and powered by a bioelectro battery cell with the help of the Geobacters, a bacteria that produces electricity while decontaminating the soil. Here are the essential points of interest: Public lighting, rainwater collection, bioremediation and free energy/electricity production.
GEO-LLUM has the possibility to be developed in Barcelona thanks to the support of Akasha Hub in collaboration with Green City Lab, at the moment acting as mediators and strategical planning organizers. They will host the first pilot soil regeneration program in Barcelona with the government city program of Mans al Verd, from Decidim participative platform.
This could represent a chance to conceive a wet lab area for the scientific research and the prototyping phase of GEO-LLUM, moreover creating a connection with S+T+ARTS experts and partners.
For images and more information about GEO-LLUM, check out the S+T+ARTS Residency Archive.
Jury Testimonial
As Jury, we decided to select Samira Benini Allaouat as the winner of the Repairing the Present Residency at Regional S+T+ARTS Centre CENTER OF CONTEMPORARY CULTURE OF BARCELONA CCCB, because the project GEO-LLUM presents a promising opportunity to combine artistic and scientific research, design, urban ecology, citizen science and community engagement in order to encourage habitants to more deeply reflect on human/nonhuman interaction in cityscapes.
---
For a More Harmonious City
How might we create a more harmonious city?
Sound is increasingly a dimension of the city that has implications over many urban factors: from health to biodiversity to new forms of mobility. Interventions in the acoustic fabric of the city can be used to understand better urban dynamics, but also to improve living conditions for both humans and non-humans alike.
Keywords
Sound as data, Urban Acoustic Ecology, Sound Art, Sound as urban design, Citizen science
Residency Artist
As a composer and spatial sound designer, Lugh O'Neill's work navigates an eerie and evocative space formed by the overlap between what is recognisably tangible and familiar and the aseptic sterility of the digital – the separation of which is continuously and progressively challenged. In recent works, Lugh has focused on emphasising the potential of spatialisation in sound and music composition – while composition is traditionally conceived over the spectra of frequency and time, Lugh's work utilises space as another dimension in which sound and music composition is written.
Lugh has performed in concert settings and produced audio-visual work for contexts such as the KW Institute for Contemporary Art Berlin, Design Miami/Basel, Cafe OTO London, Point Ephèmere Paris, Bloomberg New Contemporaries at ICA London, and regularly collaborates on projects with artists such as Jakob Kudsk Steensen, Sinae Yoo and Tomas Saraceno.
As co-founder of C.A.N.V.A.S. — a record label and events series — Lugh has released his own works such as the Re Munus LP, directed the research-based Cipher and Apocope compilation LPs, and co-produces other works released on the label.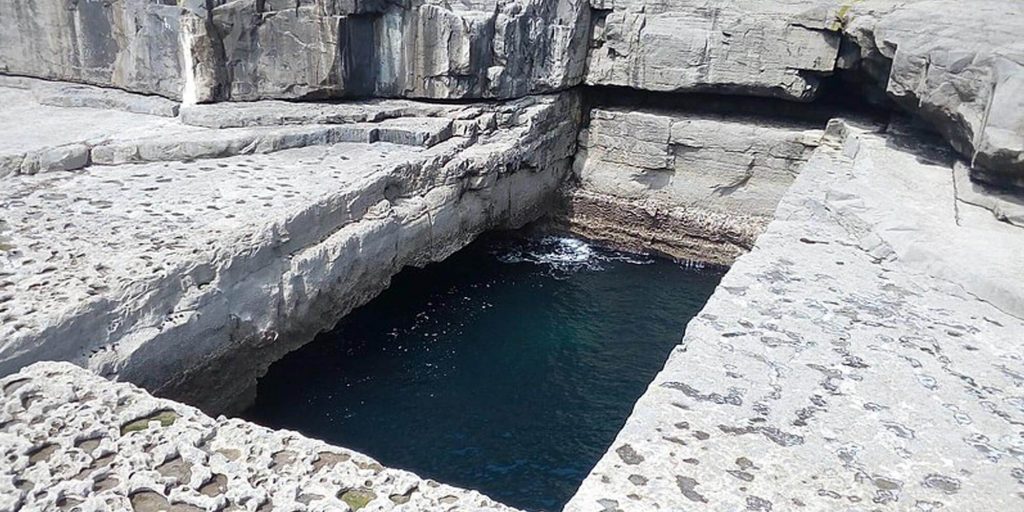 Residency Project
KARST
A spatial sound composition and acoustic space design artwork that tells a story about cultural engagement with acoustic spaces and habitats. In collaboration with other performing artists, Lugh creates a composition, presented as video and 3D spatial sound, which builds a narrative around a selection of spaces, selected for their acoustic qualities and cultural significance. The composition, recorded and performed on location — allowing for an artistic interaction with the locations — is then presented within an acoustically designed space and set design.
This approach is inspired by accounts of how various cultural uses of sound, spoken or musical, are a means to analyse and contextualise environments. Many great examples can be found in the writings of Tim Robinson about cultural associations with the geological topography of the west of Ireland.
"Every feature of the bay has its name, though many of them are almost forgotten, now that a detailed knowledge of its accesses and obstacles is no longer a matter of survival to the boatmen."
The loss of such local and indigenous culture and practices worldwide contribute to ecological amnesia — whilst contemporary culture can see, visually, much more than ever before, the loss of knowledge and context has rendered the landscape flat, and our relationship to it hollow. A re-sensitisation to sonic cultures as a means of inhabiting our urban and natural environments is crucial for regaining ecological awareness.
For images and more information about KARST, check out the S+T+ARTS Residency Archive.
Jury Testimonial
As Jury, we decided to select LUG O'NEILL as the winner or the Repairing the Present Residency at Regional S+T+ARTS Centre CENTER OF CONTEMPORARY CULTURE OF BARCELONA CCCB, because the project is original in its approach to sound and has an interesting potential, both conceptually and also in terms of raising awareness about the cultural value and uses of sound, oral or musical traditions. The candidate has a compelling and solid trajectory and vision. His experience in the field of acoustic design can serve to explore the political/social value of a situated listening in original and innovative ways. Next to that, he will be developing his own digital tools.
Local Expert Group