Ars Electronica
Circular Futures
How might we catalyze circular futures by increasing social commitment to dealing with our energy & resource crisis?
Economic added value alone is no longer enough to meet the innovation objectives of the 21st century. Climate change, resource scarcity and biodiversity loss require a drastic rethinking of our current production and consumption processes. Therefore, everyone's contribution and cooperation are necessary: individuals together with public institutions, the research field, industry and policymakers.
Keywords
Circular economy, Citizen and multi-stakeholder involvement process, Art-driven participation & innovation, Resource & energy efficiency, Future of manufacturing
Residency Artist
Kat Austen is a person. Her artistic practice focuses on the entanglement of humans and more-than-humans in topics of environmental concern. She creates sound-centred new media installations, music performances and participatory work. Austen's practise is underpinned by extensive research and theory and driven by a motivation to explore how to move towards a more socially and environmentally just future. In Circular Records, Austen will work closely with Fara Peluso, an artist and designer with strong expertise in biology and biomaterials motivated to inquire into living organisms agency and poetics adopting speculative design methods.
Based in Berlin, the two share strong transdisciplinary arts-led research practice and a motivation for art to make a material difference to contemporary topics. Austen has held fellowships at the Institute for Advanced Sustainability Studies, Potsdam and the Cultural Institute (Climate Track) the University of Leeds, alongside numerous residencies. Peluso developed strong expertise in biomaterials during the two-year art-design residency programme Mind the Fungi at Technische Universität Berlin, Institute for Biotechnology and Art Laboratory Berlin.
Residency Project
Circular Records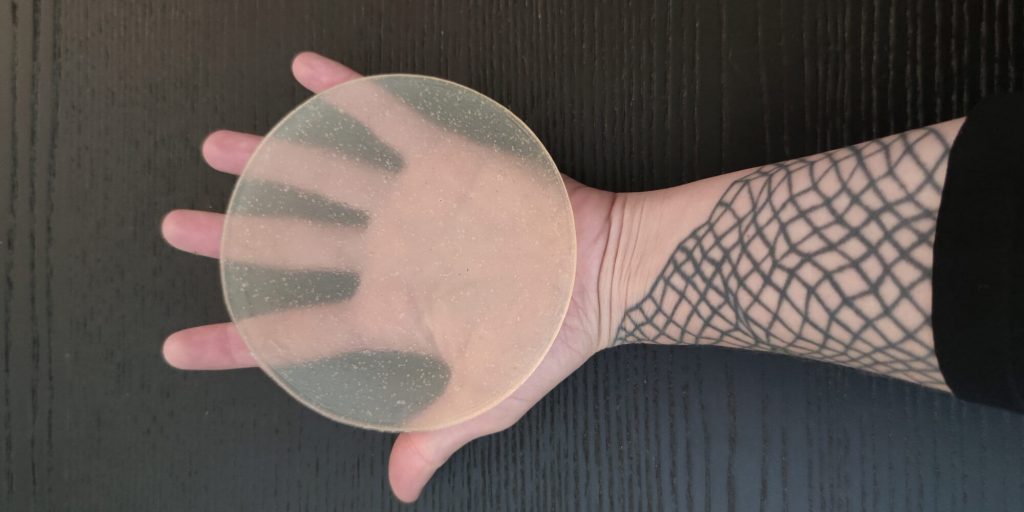 Circular Records will develop a solution that addresses the environmental impact of new media art, focussing on sound art, by creating a zero- or low-carbon way for listeners to acquire sound works.
This will be an alternative to the highly polluting and popular vinyl record. We will test, develop and combine biomaterials to achieve the necessary material properties, concurrently developing a record manufacturing method suitable for this material. In the end, we will have a prototype release of an experimental music album (This Land is Not Mine | Album) that addresses the complexities of the fossil fuel extractives industry.
Circular Records resulted in the artwork titled Ouroboros.
For images and more information about Ouroboros, check out the S+T+ARTS Residency Archive.
Jury Testimonial
Comin soon …
Local Expert Group