S+T+ARTS in the City | Challenge nº6 | Regenerative AI for Urban Mining
+ Consortium Partner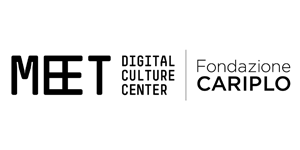 ---
+ Problem Statement
How can we establish nurturing and circular relationships among the three different intelligences -human, artificial and natural- fostering collaborative symbiosis, allowing a "regenerative" AI to activate urban mining processes of materials and knowledge from the city environment?
---
+ Keywords
Critical Minerals, Regenerative AI, Symbiocene, Mining, Circularity, Material Research, "Advancing" Waste
---
+ Description
Rather than relying on the excavation and exploitation of scarce resources to sustain technologies and AI, humans can instead leverage critical minerals or materials already present in urban environments, extracting them in a manner that embodies a sense of care. On the other hand, there is an urgency to discover new materials that can replace costly-to-extract rare minerals. AI can play a pivotal role in facilitating this symbiotic relationship by aiding in the identification of hidden resources within cities and enabling the activation of circular processes to regenerate them.
The regional context of reference is a big city in Northern Italy (it could be Milan, Trieste, Turin) that holds significant reserves of materials that hold value to machines, products, and processes. This context offers an opportunity for reflection on the intelligence of materials and symbiotic processes between nature, artificial intelligence, and human intelligence, as part of the one great "intelligence" of the city.
These cities can become mines, of materials, knowledge, and data, activating circular processes of self-regeneration facilitated by AI. This includes for example the extraction of rare materials (lithium, cobalt, copper, lithium, nickel, cobalt, and rare earth elements in circulation) from technological waste or alternatively, their substitution through advanced research enabling the AI machines and hardware to be fed, which in turn extract data and provide valuable insights back to the city, to activate circular processes.
This can give rise to a utopian scenario in which human intelligence mediates and integrates the two intelligences (artificial and natural) or a dystopian one where humans are sidelined by the other two intelligences that organize themselves independently.
The artistic prototype emerges from a creative speculation around concepts of sustainability, circularity, and regenerative AI, aligning with the New European Bauhaus. Advancing waste encloses a double meaning of the idea of advanced: you recover something that is advanced but in recovering it you overcome the theme of surplus.
---
+ Residency Characteristics
The residency is co-hosted by Area Science Park Trieste, providing the artist with exclusive access to technological resources, open big data, and its technological platforms focused on materials, data and life sciences. Notably, this collaboration incorporates the use of the Innovative Materials Platform which is composed of the Electron Microscopy Laboratory and the Data Engineering Laboratory, in collaboration with Elettra Synchrotron. Elettra Synchotron offers state-of-the-art, electron laser light for materials research and application in life sciences. Additionally, the artist will also get valuable support and guidance from experienced researchers. We search for artists that have experience working with AI systems.
The residency is hosted by MEET in Milan and the artist(s) is expected to be present in Milan on a regular basis and should include the travel expenses in the budget plans. MEET will coordinate the presence of the artist at the co-hosting institution and will put at disposal of the artist the Creative Studio and the Immersive Room for audiovisual and immersive prototyping.
The residency is accompanied by a public programme that will involve multiple stakeholders, from citizens and the public sector to research and industry actors, to identify the overall needs and increase collective commitment. Selected artists will have the opportunity to lead public events (through workshops, roundtables, etc.) with the support of MEET. The artist is expected to present the prototype at 2 events organized by the MEET Center Milan and/or Area Science Park Trieste.
The artist is expected to deliver a presentable outcome of the residency in the form of a prototype. MEET will organize a local showcase in March 2024 with Area Science Park Trieste where the artist is expected to be present. Also, the artist will be invited to participate in the annual Atlas of Digital Art in June 2024.
The LEG network is an interdisciplinary group that includes representatives from local authorities (Regione Lombardia, Metropolitan City of Milan), companies (ETT), universities and research centers (Politecnico Milano, Grenoble Business School, Area Science Park), artists and curators (Casa degli Artisti, Fare Arte Milano).
---
+ Jury Day
The Jury Day will be held online on September 26th, 2023.
---
+ Local Expert Group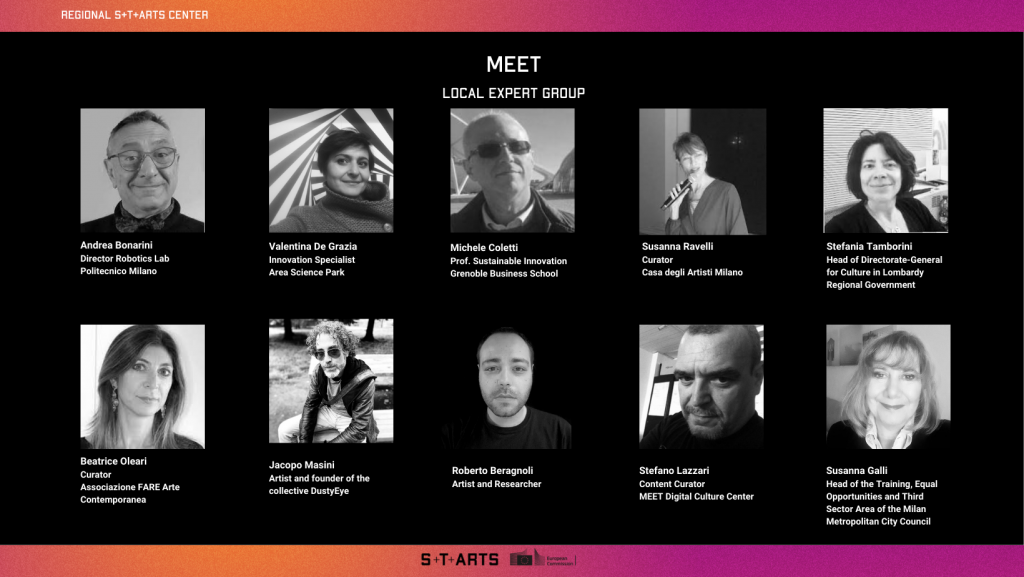 ---