S+T+ARTS ReSilence Open Call winners announcement
S+T+ARTS ReSilence announces winners of 1st Open Call for 5 S+T+ARTS Residencies.
The S+T+ARTS ReSilence 1st open call received totally 131 application from 93 individuals, 38 artists+SMEs , from 35 countries. ReSilence selected 3 individual artitsts and 2 artists and SME pairs. Residencies start from July 2023 for a maximum duration of 18 months.

Type: Individual Artist
S+T+ARTS ReSilence Artist in Residency: Andrea Cera
Project: Moving Soundscapes
Our project will deploy creative, non-orthodox sound design techniques to explore new counter-measures to soundscape intrusiveness and annoyance. To measure the efficacy of our prototypes, we will analyze their influence on human movement. The best designs will inhabit a sensitive space, where visitors' bodies modulate the degradation/healing of a virtual urban soundscape.
Bio
Andrea Cera
(1969, Vicenza) is an Italian sound designer and composer. He received a classical music training (piano and composition) from Padova's Conservatorio, and a formation in computer music from IRCAM-Centre Pompidou in Paris (Cursus Annuel 1997/1998). Since 1998 he has created over 40 soundtracks for contemporary dance and theatre works. He collaborated with IRCAM, MotionComposer, Phonotonic, Casa Paganini-InfoMus in research projects about cross-modality and human movement sonification. In the 2010s he began a collaboration with IRCAM and Renault, for the design of external electric cars' sounds, from Renault Zoé to the collection E-Tech 2022. Between 2020 and 2022 he collaborated with Taiwanese collective Luxury Logico for "The Insomnia Sketchbook" a robotic installation in an immersive sound space. https://andreacera.info
S+T+ARTS ReSilence Artist in Residency: Caroline Claus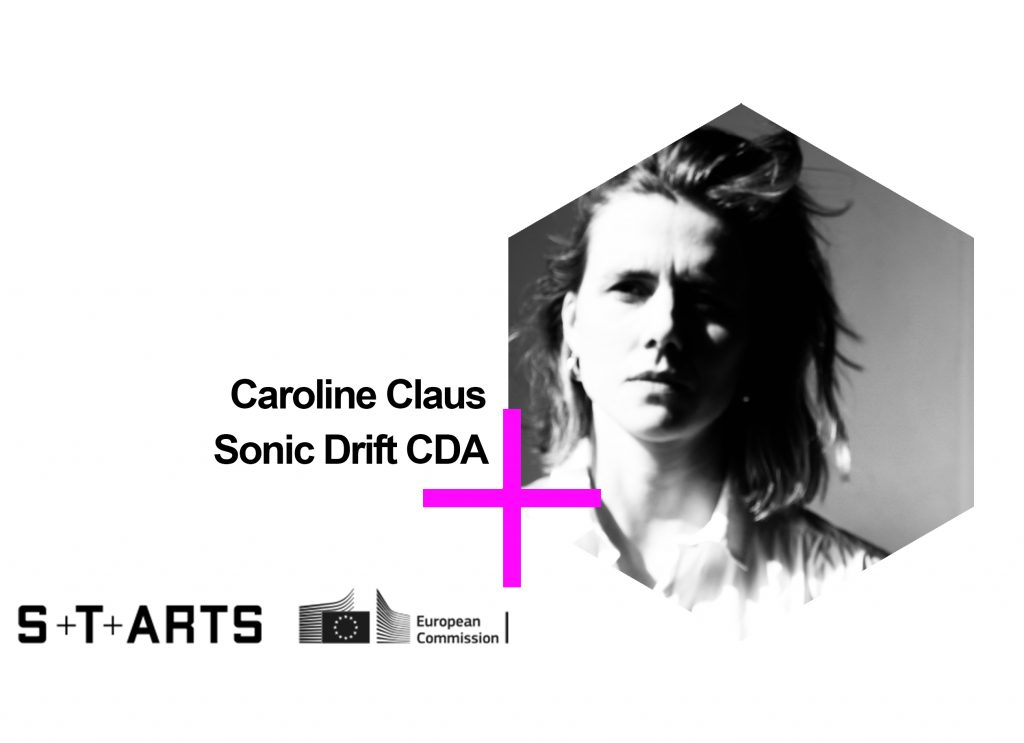 Project: SONIC DRIFT CDA
The project is an experiment in sonic cartography to explore how to build, in a context of urban redevelopment, a
sonorous scale model that builds up a synthesis of urban sonic space shifts through the integration of passive logging techniques into a sonogeographic dérivé along Brussels Chaussée d'Anvers (CDA).
Bio
Caroline Claus
Caroline Claus is a Brussels-based urban researcher and sound artist. Her work explores urban landscapes as milieus for contemporary listening and new urban space. Her interests include the analysis of sonic space shifts – both as materiality, physical form and in experience – to understand the role of sonic affect in dynamics of territoriality, as well as linking these affective tendencies to accessibility and quality for the evaluation of strategies for public urban space.
Her research materializes in three main areas: sonic cartography through experimental site-specific sounding situations, studio collaborations and seminars for common dialogue, and publishing as feedback to action. Caroline studied Sociology (Ugent) and Urbanism, Spatial Planning & Design (EhB & VUB). She holds a PhD in Architecture (KU Leuven). https://clauscaroline.be/
S+T+ARTS ReSilence Artist in Residency: Tim Otto Roth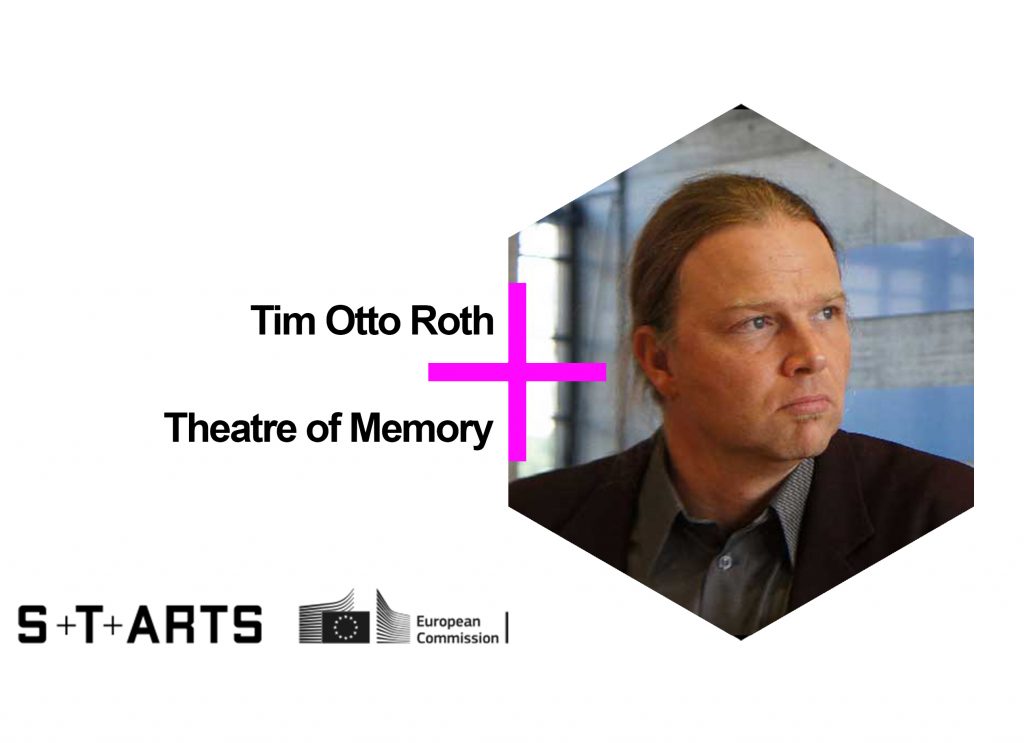 Project : Theatre of Memory
The Theatre of Memory is a light augmented sound laboratory creating a unique immersive environment of luminescent speaker sculptures interacting in the whole space via tones. This dynamic acoustic network not only echoes fundamental neuronal processes underlying our memory, but it also allows new challenging forms of spatial participation for the audience. Above all, the underlying neurobiological feedback driving the interactions implicates a novel paradigm of composing but also of interaction with musicians.
Bio
Tim Otto Roth
TOR (*1974) is a German conceptual artist and composer living and working in Oppenau (Black Forest) and Cologne. For his light and sound related projects presented from Hanoi to New York he collaborated with leading scientific institutions. Space plays a major conceptual role in his huge sound installations. These immersive acoustic laboratories are literally compositions of numerous individual custom made speaker sculptures distributed in the whole space or set even into motion. As the tones recomposing at each position differently to specific local sounds, the role of the audience is redefined advancing to an actively exploring agent. https://www.imachination.net/
Type: Artist + SME pair
S+T+ARTS ReSilence Artists+SME pair in Residency: Alfonso Severino and Loukia Tsafoulia, up2metric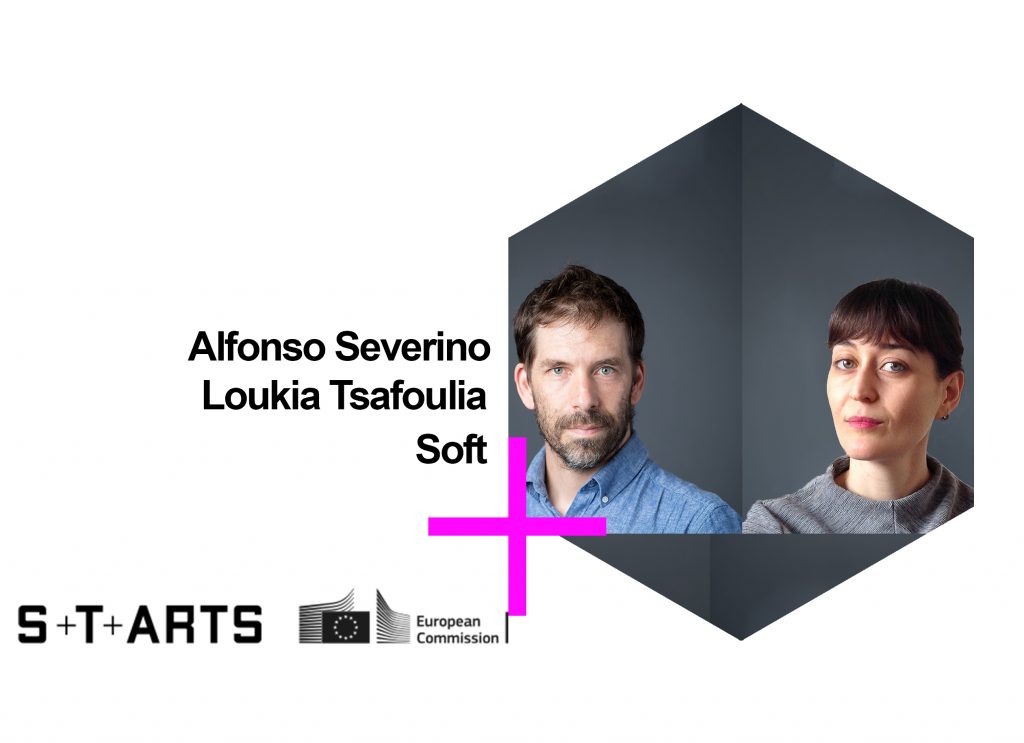 Project : Soft, a prototype for responsive environments and neurodivergence
Project Soft is a spatial "wearable"; an encapsulated, safe space with an adaptive interior environment where sound experience occurs via a full-body approach. In combining science, technology, and design expertise with the lived experience of neurodivergent advocates, Soft investigates the challenges stressful sonic environments present to neurodivergent individuals and the healing opportunities of sensory multimodal and responsive spaces for all.
Artists Bio
Severino Alfonso and Loukia Tsafoulia are architects, educators, and researchers whose work intersects artistic praxis, technology, and digital culture. Their scholarly research is positioned at the intersection of responsive environments, cognitive sciences, and computational design. They both hold a Post-Professional MS in Advanced Architectural Design from the Graduate School of Planning and Preservation, Columbia University. They are founders of the PLB studio design practice and Assistant Professors at the College of Architecture and the Built Environment at Thomas Jefferson University, where they co-direct the Synesthetic Research and Design Lab. The SR&DLab is a research-design platform that develops practical and theoretical design methodologies to critically frame the interactions between humans, objects, and environments. The lab employs design systems that provide a layered understanding of embodied spaces—affective and performative—through the experimental meshing of the physical and digital realms. It partners with neurodivergent advocacy communities and medical and industry experts to build collective knowledge that addresses all-inclusive ways of perceptually experiencing our spaces. Their work has been exhibited in international art and design venues such as the Trajan's Market Museum of the Imperial Fora in Rome, Italy (2022), the 2021 European Cultural Center, Venice Architecture Biennale in Venice, Italy, the Municipal Theater of Piraeus in Athens, Greece (2021-2022), the IE Creativity Center/Casa de la Moneda in Segovia, Spain, the London 3dPrint Show, ICFF in New York, and more.
SME profile
Up2metric P.C. is a Greek SME specialized in developing technology-driven innovative software solutions employing Computer Vision Artificial Intelligence, eXtended Reality and 3D technologies. Our vision is to build a fascinating future by building applications that enhance people and organizations in their mission to solve meaningful challenges. Research interests include Machine Learning on images and videos, 3D modelling (Structure-from-Motion, Stereo-Reconstruction), 3D scanning (range, RGB-D sensors, structured light), multimodal data analysis. up2metric is part of Attica Technology & Science Park "Lefkippos" (http://tepa-lefkippos.demokritos.gr/#), member of the Hellenic Photonics Cluster (http://hphos.gr/), Greek Startup Ecosystem (https://elevategreece.gov.gr/) and the Federation of Hellenic Information Technology & Communications, Enterprises (http://sepe.gr). http://www.up2metric.com/
S+T+ARTS ReSilence Artists+SME pair in Residency: Gustavo Maggio, Wendy Chua,Joyce Beetuan Koh (Artist Collective), Playersjourney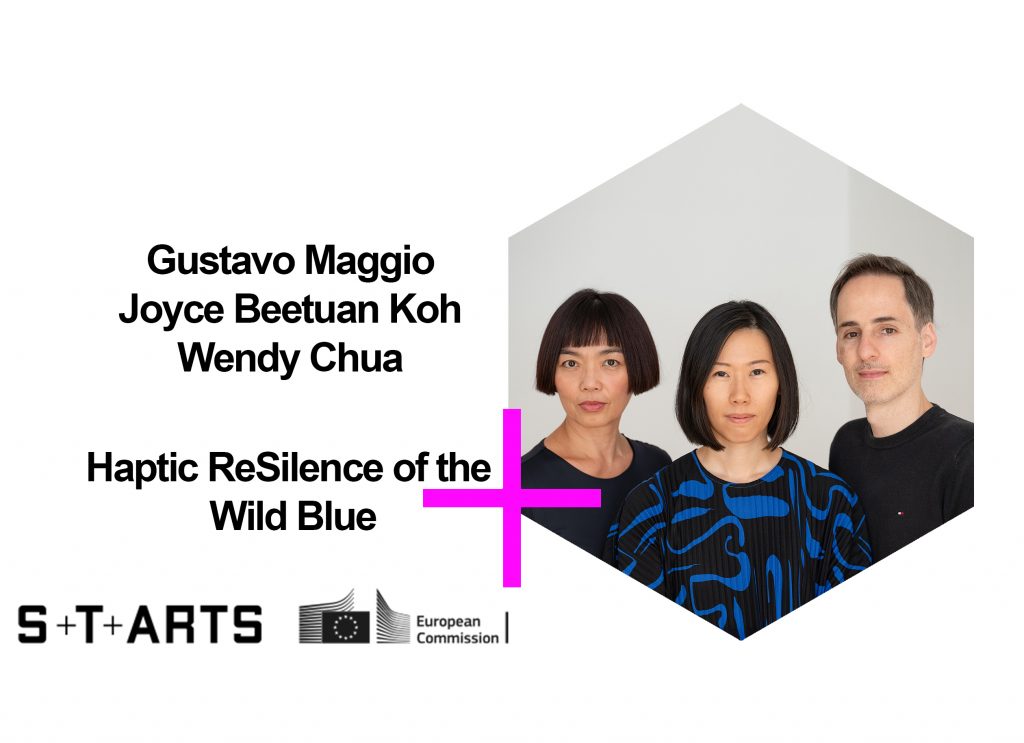 Project: Haptic ReSilence of the Wild Blue
Tuning into the thriving sea of haptic silence that surrounds one in a diving experience, tactile acoustics are woven into a full-body sound experience for sensing climate precarity in our oceans. Bioacoustics, translated into sensory pulses within VR wearables, shed light on more-than-human narratives in the wild blue media.
Artists Bio
Gustavo Maggio, Wendy Chua,Joyce Beetuan Koh (Artist Collective)
Gustavo Maggio is an industrial designer who envisions design as an agent of change in the climate crisis, delving into novel materials and circular production systems. With Wendy, he co-founded Forest & Whale as a practice to advocate for social and environmental care through social care strategies, community engagement and exhibitions. Wendy Chua is an interdisciplinary researcher in the art-science. Drawn to making invisible toxicities tangible, she is collaborating with marine scientists to explore the climate precarity of harmful algal blooms in fragile coastal ecosystems. Award-winning composer Joyce Beetuan Koh writes concert music, works in dance collaborations, and creates sound installations, multimedia productions, and films. Underpinning her creative impulse is a fascination with architectural structures and scientific theories, and the result is a language that is abstract and self-contained. https://forestandwhale.com/ and http://www.jbtkoh.net/
SME profile
Playersjourney develops and designs interdisciplinary media experiences. Ranging from complex VR prototypes, to low tech audio games, Playersjourney tries to reflect the usage of different technologies in diverse environments and user groups. Our technical expertise comes from our multidisciplinary team and our scientific research background. Our focus on gamification, design and their connection to culture and knowledge is grounded in our teams variable skillset and leads to a passion for creating innovative and engaging ideas. Our approach is rooted in a deep understanding of the principles of interactivity, immersive media and the users' well-being, imagination and social inclusion. https://playersjourney.de/en/