The Exploration of Artificial Creativity with artonomous, by Beth Jochim
Margaret Boden, Research Professor of Cognitive Science at the University of Sussex and advisor to the Leverhulme Centre for the Future of Intelligence,believes that the creative process is still somewhat unclear and computational technology helps to understand more about the different typesof human creativity.[1]
"Deconstructing my own artistic process and teaching it to painting robots is my attempt at a better understanding of myself."

Pindar Van Arman.
Boden highlights how important is for humans and machines to work side by side in order to look into both human and machine creativity, "because the brain itself is a bundle of interdependent elements which support thinking and behavior that's describable on many different levels." Creativity and aesthetics, thinking and behaving, "they all in the end boil down to questions about information processing, and that's why they are all so closely linked." [2]
Is it only humans who are creative or can machines be too? This is the fundamental question that AI artist and roboticist Pindar Van Arman addresses in his work and for which he has an answer. Indeed, according to the artist his robots are at the verge of creative autonomy.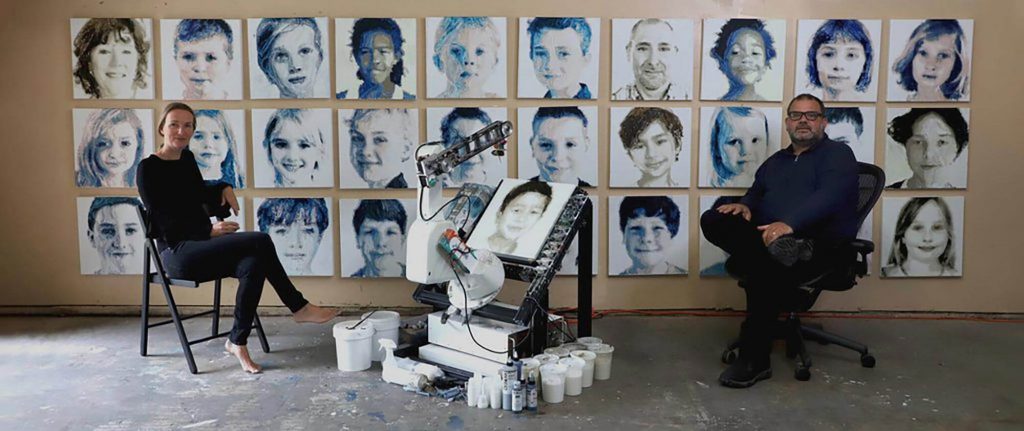 As he explains, his most recent robots use "deep learning, neural networks, artificial intelligence, feedback loops and computational creativity to make a surprising amount of independent aesthetic decisions." [3] Over time, the robots have become very sophisticated, overcoming the state of pure assistant and becoming something that shows a creativity of its own, and that can be used to increase the creativity of the human artist as well. This aspect has brought the artist "to consider the possibility that all art is generative."
Article originally published on https://cuevagallery.com/blogs/explorations-of-ai-art/artonomus
Explorations of AI Art — Episode 26
Beth Jochim, Director and Co-Founder at Cueva Gallery. Twitter:@_bblurred
[1] https://bethjochim.substack.com/p/creativity
[2] https://www.ibm.com/watson/advantage-reports/future-of-artificial-intelligence/margaret-boden.html
[3] https://www.cloudpainter.com/