Looking Back on One Year of Repairing the Present: Interview with Alexandra Vanhuyse
Alexandra Vanhuyse is the Co-founder of Snowball. Snowball is a Belgian cleantech hub, one of the 12 Regional S+T+ARTS Centres and the coordinator of Repairing the Present.
Tell us a bit about the goal of Repairing the Present and the S+T+ARTS Residencies hosted within this project.
Alexandra Vanhuyse: Repairing the Present is part of the European S+T+ARTS Program. It's a multistakeholder project of 11 Regional S+T+ARTS Centers spread across Europe. The project kicked off in June of last year, and we are working with a vast number of partners toward the European Green Deal and the New European Bauhaus goals. These two policies are key initiatives of the European Commission for the next decades, whose goals are to improve the well-being of European citizens by making Europe climate-neutral and protecting natural habitats. The same goals are also the foundation of the Repairing the Present initiative. We focus on bringing together different disciplines that could help spur, foster or advance the adoption of policies necessary to reach carbon neutrality.
We believe everyone must play a role in tackling the climate crisis. We work on different challenges within the project, ranging from biodiversity, mobility, waste, the circular use of products and materials, and other issues that address the urgent need for more action. Repairing the Present is a unique, creative and inspirational way of bringing the pan-European, if not global, agenda to the local level through S+T+ARTS residencies and S+T+ARTS Academies. Through the S+T+ARTS residencies, we seek to foster co-creation between the different disciplines of science, tech and arts and create frameworks for artists, scientists, researchers and local industry leaders to work together with a common goal. On the other hand, the S+T+ARTS Academies are events that bring the S+T+ARTS way of thinking to a broad public and involve them in the conversation, inspiring and mobilising them. These events are underpinned by surveys showing that more than 90% of European citizens want to take at least one type of action to help realise climate goals. Through Repairing the Present, we provoke reflection & incite action.
---
How do you ensure these goals remain in focus throughout the implementation of the project?
Alexandra Vanhuyse: I believe there are two ways of ensuring that: non-stop engagement & action and the combination & symbiosis of different perspectives and backgrounds.
The saying goes: success is 1% idea and 99% execution. Our project has a very ambitious agenda and a complex set of partners & stakeholders. We were lucky to have a well-defined process from the start and a lot of ownership within the Consortium. Looking at the organisation of the Open Call, for instance, we had several local expert meetings across Europe to help define the challenges and methodology. We then set up short term interval loops with all the partners depending on their needs & tailored to their way of working. We speak to our partners locally almost daily, be it artists, local experts, local policymakers, academic partners, as well as with the regional centres within the consortium. We are constantly working and engaging on different fronts.
Secondly, I believe one of the most significant assets is the combination of so many different partners from various fields, with impressive track records, different perspectives and all working with innovation and new ideas intrinsic in their DNA. For instance, Snowball is a cleantech hub, and we focus on testing, validating and scaling new technologies that have a positive effect on the planet. In Repairing the Present, we very much represent the technology point of view. We are fortunate to be supported by and work alongside Gluon, experts in art-industry residencies. Then we have partners like STATE, Art Hub Copenhagen & In4Art, with a strong background in art thinking & cross-industry collaborations. Ars Electronica, Onassis Stegi & Kersnikova bring in decades of experience working at the intersection of art and technology, while CCCB and MAXXI Museum bring in the contemporary art perspective. Scientific partners like CYENS and Sony Computer Science Lab have a unique contribution to the consortium with their methodologies and research approaches. And so we have 12 consortium partners, all bringing in their perspective, focus and expertise and lifting the entire team. On top of that, we have over 350 local experts that have joined the project and brought in different experiences in different industries. And last but not least, the artists who contribute with innovative approaches to issues we are all confronted with.
This built-in continuous action at different levels and the involvement of various actors has been key to staying focused on the overarching goals.
---
What stage of the project are you in right now? How was the journey here? What did you learn about working with the other partners, artists, local experts, and communities?
---
Alexandra Vanhuyse: Today marks our 12-month anniversary, and these 12 months have flown by! So far, the journey has been incredible, which isn't to say it's always been easy. Aligning different perspectives and ensuring a big group of organisations keeps the momentum has meant always finding the suitable approaches for each partner. I believe having that personalised approach is essential when working with many stakeholders. What I think is interesting is how we had to define a common understanding of the project's goal. We are a cleantech hub and will tend to approach things from a tech point of view. For us, it's essential to mobilise on the Green Deal. Other people come from the arts and cultural field, others from the field of science. We all try to advocate for our point of view, and having a shared understanding of our project's goals and purpose is essential.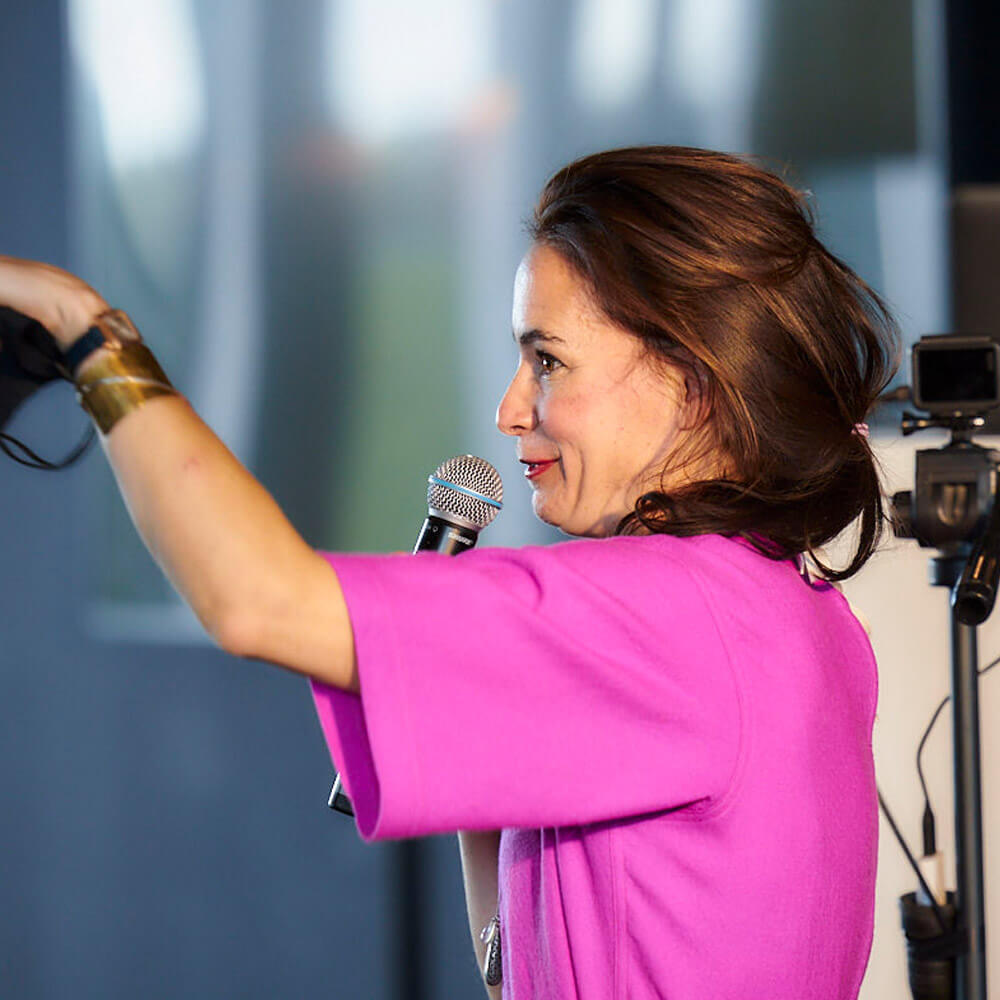 Can you already see the impact Repairing the Present has and, if so, where or how is it manifested?
Alexandra Vanhuyse: To me, the most significant impact so far is the engagement and the community building that happens at a local level with the artists, the local expert groups, other industry partners, thought leaders, academics, researchers and many other different stakeholders. In other words, building a community and creating interest in environmentally and socially driven collaborations between tech, science and the arts. Cross-disciplinary collaboration can be very abstract. We created opportunities for such collaborations or set examples of partnerships that might make it easier for others to conceive of working with artists. I believe that is something compelling.
We have also reached many other people who are now not necessarily involved in the project: we defined 21 challenges and had over 800 applications, of which 300 were eligible. It showed the eagerness of artists to contribute to social-driven initiatives and recognise the positive things that can come out of the dialogue with technology and science.
---
What's next for Repairing the Present? What are you personally most excited about?
Alexandra Vanhuyse: At this point, the residencies are in full swing, and the artists and all those involved are working on creating something new, inspirational, a reflection on societal challenges that can hopefully lead to societal change. We have 21 residencies and very different artists, and I am excited to see the different directions they will all take. I'm curious to know how these residencies materialise and how they create a shift in mentality and attitudes. And of course, I am excited to see the results presented in excellent exhibitions planned to take place in four different venues – Ars Electronica in Linz, MEET in Milan, MAXXI in Rome and ZKM in Karlsruhe. I can't wait to see how the public responds to the works and the ripples they create at the local level.
---
Do you want to add any closing words?
Alexandra Vanhuyse: I think it's important to note that the project's focus is ultimately bringing forth solutions for the present climate crisis. It sounds big, but I believe there are no secondary roles, and every action is equally important. Though we work at a local level, we know climate change has no borders. We want to have an impact, and we want to mobilise local communities and citizens like you and me to reflect on the changes needed from the shifts in mindsets to the more practical ones. So if not already active, let's start today, right?
And of course, all this is not possible without the support of all the partners, regional centres, artists, network of local experts, and members of the general public involved in the project. So a huge thank you to all of them! And looking forward to seeing you at our events!
---