8 projects selected for the first edition of STARTS in MOTION
We are very glad to announce the selection of eight incredible teams for the first edition of STARTS in MOTION!
The programme has been designed to empower artists and technologists in pursuing their STARTS project by exploring the business side of the creative work. Due to the current lockdown and uncertainty concerning the next months, we have rethought the modules and will focus on a series of online sessions aimed at mentoring, capacitating and empowering the teams to develop further their project.
Selected Projects
Print Your City
By Foteini Setaki and Panos Sakkas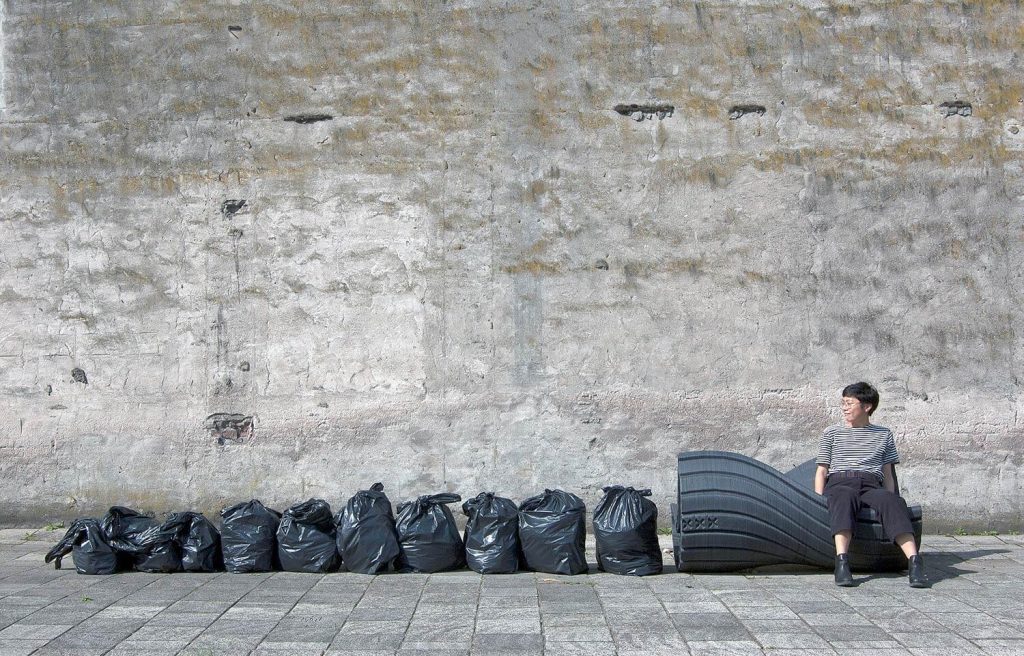 Print Your City! uses large scale 3D printing to transform the plastic waste of cities into meaningful applications for the built environment. They work to create closed loops for plastic and involve local communities in the shaping of their surroundings.The project is built on three main dimensions: 3D Print – Recycle – Participate.
See project on https://printyour.city/
Find more about the project funded by STARTS RESIDENCIES here.
Smoking Gun
By Rachel Briscoe, Dan Barnard, Joe McAlister
Smoking Gun takes a playful approach to exploring the power of data in a post-truth world. It's a thriller which unfolds via your phone, placing you at the heart of a potential whistleblower scandal. Over five days, you must solve puzzles, scrutinize documents and wrangle datasets to uncover what is really going on at the heart of government. But as your investigations take you deeper, nothing seems as clear-cut as the whistleblower is making out. Maybe it's time to go back to the data.
See Project on https://www.fanshen.org.uk/smoking-gun
Find more about the project funded by STARTS RESIDENCIES here.
Sleep in the city
By Walid Breidi and Virgile Novarina
The aim of the project is to sensitize people to the profound importance of sleep through performance, interactive art and networks. The idea is to connect city sleep with networks and open data in order to create interactive poetic videos projected all around the city in real time while the participants sleep.
Find more about the project funded by STARTS RESIDENCIES here.
Library of ourselves
By Be another Lab
Library of Ourselves is an interdisciplinary and distributed project to create transformative encounters between communities in conflict. It was built using The Machine To Be Another (TMBA), a highly adaptable Creative Commons system that bridges cognitive science and virtual reality techniques to create empathic-driven experiences.
The overarching goal of creating measurable social change in local communities around issues of migration and marginalization is amplified by creating interconnections to allow joint work between those involved. For example audiences and grassroots organizations and audiences affected by content can engage more deeply with community organizing issues through co-designed opportunities, creating real world change.
It is embodied virtual reality system designed to experience the world from the perspective of another.
It works as an open platform to co-design immersive experiences that promote somatic and verbal dialogue deriving in pro-social behavior.
See Project on http://beanotherlab.org/
Find more about the project awarded by STARTS PRIZE here.
Fennec Turbine
By Maxim Kuzin, Korolev Dynamics
The Fennec Turbine is a state of the art and technology compact wind turbine with low noise, high safety, and long use. The heart of the technology is a unique hyperboloidal rotor which provides the lowest noise and vibrations.
1 – THE IDEA TO DISPLAY TO PEOPLE HOW MUCH PURE ENERGY IN 1 M2
Everybody knows that a lot of energy is contained in the space around us. The same time we know that there will be a moment when we must become more clever in energy harvesting. But to know and to act in a such way are different things. Imagine the object which makes natural energy visible.
2 – SCIENTIFIC RESEARCH TO DISCOVER A BRAND-NEW TYPE OF WIND TURBINE ROTOR
At the very beginning, while the first approximate calculations were being carried out, a primitive mock-up was made and tested, which made it possible to verify the suitability of the selected geometric parameters for operation as a rotor of a wind turbine.
3 – PROTOTYPE DESIGN AND TESTS TO DEEPER EXPLORE THE TECHNOLOGY OF HYPERBOLOID ROTOR
A turbine with a 30-bladed 6-meter rotor was built and tested in real conditions. Also at this stage, cases of logistics, deployment and dismantling were tested.
See Project on https://maxkuzin.com/Wind-Turbine.
Find more about the project awarded by STARTS PRIZE here.
Journey of the Tongue
By Ayako Suwa, Evala, Yasuaki Kakehi
Journey on the Tongue is a participatory exhibition that allows guests to rediscover their instincts and sharp senses as they explore a series of sensory stimulations.
The journey begins with selecting one aroma from the twelve scents blended especially for the exhibition. This aroma becomes the compass guiding guests to their destinations as they taste food artworks arranged in harmony with the fragrance.
Experiencing multiple sensations of touch, smell, sound, flavor, texture, and temperature, everything synthesizes in the mouth to provide a sense of time passing and spatial movement.
See Project on https://lexus.jp/international/brand/intersect/tokyo/garage/journey-on-the-tongue.html
Find more about the project awarded by STARTS PRIZE here.
SoundShirt
By Ryan Genz and Francesca Rosella, CuteCircuit
The SoundShirt brings music to life in a way that it can be felt physically, live, in real time, on the body, in a tactile language unique to each piece of music being performed, opening new and diverse ways of enjoying music for the audience.
The SoundShirt allows the wearer to feel music through touch sensations in real-time in a way that is fully immersive. While the live orchestra performs on stage, microphones capture the various instruments and a special computer software transforms the sounds into touch data, this data is broadcast wirelessly to the SoundShirts. In this installation a recorded London Symphony Orchestra performs the Hebrides Overture. The SoundShirt wearers (selected audience members) will be able to experience the feeling of music rendered on their upper body through haptic actuation. The experience is meant to show how inclusive music can be and how it allows the deaf audience members to share the experience with non-deaf audiences.
See Project on https://cutecircuit.com/soundshirt/
Find more about the project awarded by STARTS PRIZE here.
Studio Hilo
By Sara Diaz and Natalija Krasnoperova
Studio HILO is a Berlin-based studio for digital textile innovation. Established in 2018 by textile designer Sara Diaz and innovation trainer Natalija Krasnoperova, we have since grown into an interdisciplinary team of fashion experts, designers, engineers and social entrepreneurs.
We developed the first open-source HILO spinning machine and software for local yarn production in 2015. By giving free access to our open-source textile manufacturing tools we empower designers, researchers and small producers to redefine their processes from the fibre to the textile.
We create playgrounds for independent yarn production.
We offer hands-on workshops, innovation trainings and consultancy for manufacturers, educators and industry's maker labs. Our expertise lies in open-source manufacturing tools, educations trainings for local production chains and digital textile design. We lead by example for change in textile production.
See Project on www.studiohilo.com
Find more about the project awarded by WEAR SUSTAIN here.
During the next months, we will organise regular online sessions with the teams and tailor our programme to support them in developing further their approach on business modeling, development, strategy, funding, pitching, etc.
We will kick-off the programme on Wednesday, May 6th, with a "Ask me Everything" session with Silvia Zancarli, don´t miss it!