Solar Orchard Garden
Festival
September 9 through September 13 2020
6 p.m. - 1 p.m.
Online
ESPRONCEDA – Institute of Art & Culture (ES), MIRA Festival (ES), Insitute Ramon Llull (ES), Helsinki XR Center (FI), ./studio3, Institut for Experimental Architecture (AT), MEET Digital Culture Center (IT), UCA (UK)
The Solar Orchard Garden is a complex system that activates the curiosity of visitors / participants by play with two complementary concepts: quintessence, the fifth element of alchemy, and the Gaia Hypothesis, which looks at Earth as a self-regulated complex system.
The Stargazer installation is a 360° semi-spherical space that interacts with visitors, on site and online by Mozilla HUB, to create wonder and co-creative experiences.
The Amazonia experience is a participatory dynamic combining real performances with advanced technology installations from real time COVID-19 expansion to the sounds coming from the space. Nature is always more powerful than human technology.
Solar Orchard Garden – Quintessence and Gaia Hypothesis
Curiosity and Complexity defines Solar Orchard Garden on the basis of two concepts: quintessence, the fifth element described by alchemy, and the Gaia Hypothesis formulated in the seventies.
Humans have always looked up to the skies for otherness and origin – god, knowledge, destination, life. At the same time, Earth a self-regulating complex system, organic and inorganic at once, orchestrates the biosphere, the atmosphere, the hydrospheres and the pedosphere.
The on site and online visitors / participants of the Solar Orchard Garden are invited to participate in two complex experiences: Stargazer and Amazonia.
Stargazer is an experiment of hybrid presence, an artwork situated between two interconnected sites – a dome projection in Barcelona and the virtual world in Mozilla Hubs.
The virtual world of Stargazer draws its visual inspiration from a pre-scientific understanding of the cosmos, materialised as Platonic solids. It encourages visitors to engage playfully, crate and share their own mini narratives as pictures and question the concepts of communication, distance, time and presence. It's like sending a virtual message in a bottle into space: The pictures alter the dome projection site in Barcelona, where visitors observe changes to their visual environment in real time. Who sees these messages, what is their impact, and how will they respond?
The Amazonia experience shows Earth as a continuous ecological equilibrium with the Sun, its source of energy and an extreme danger to life, from COVID-19 spreading across the globe to ritualistic performances that demonstrate to contemporary, Anthropocenic humans, how Nature always calls the shots.
Some highlights of the Solar Orchard Garden: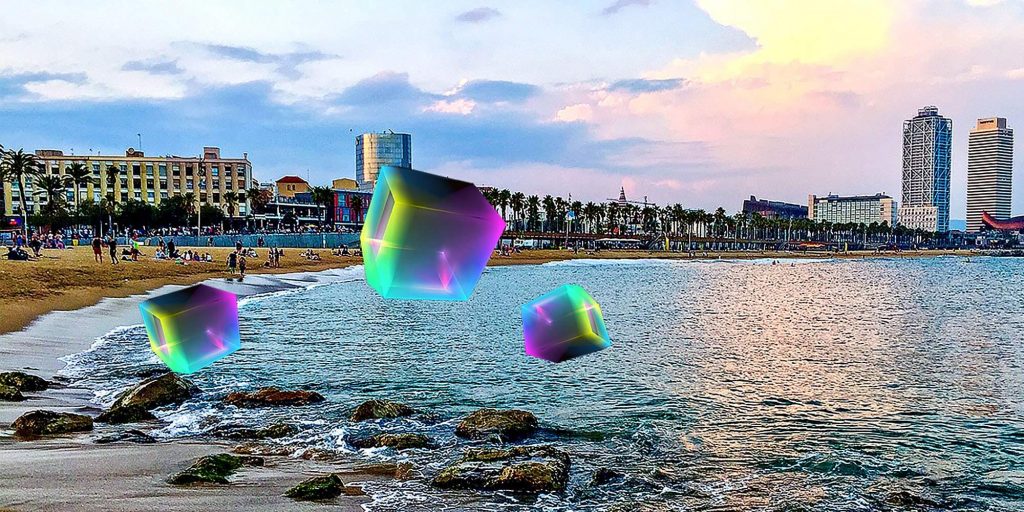 Stargazer, Sept 9th 18h – 19h30 CEST
Kris Pilcher (US), Cenk Guzelis (AT), Josecarlos Florez (PE), Quadrature (DE) and Mohsen Hazrati (IR), Curated by Santeri Suominen (FI)
"Stargazer" is a hybrid deeply participatory installation, which consists of two complementary and connected parts: a globally accessible mysterious virtual reality world in Mozilla Hubs and a spherical projection site in Barcelona. It encourages attendees into spatial exploration and deep engagement, to traverse a border between a virtual and physical world and connect with someone on the other side: Ars Electronica visitors from around the world can meet and interact with local people in Barcelona by visiting the space in Mozilla Hubs and interacting with its elements, and vice versa, Barcelona locals can interact with an international audience by visiting the dome projection site and engaging with its elements.
Stargazer encompasses the events exhibition/ opening (introduced by the curator Santeri Suominen), a panel discussion with the artists and a Mozilla Hub.
Opening talk and panel discussion by Santeri Suominen curator, the artists and Alejandro Martín, Co-founder and Artistic director of IMMENSIVA.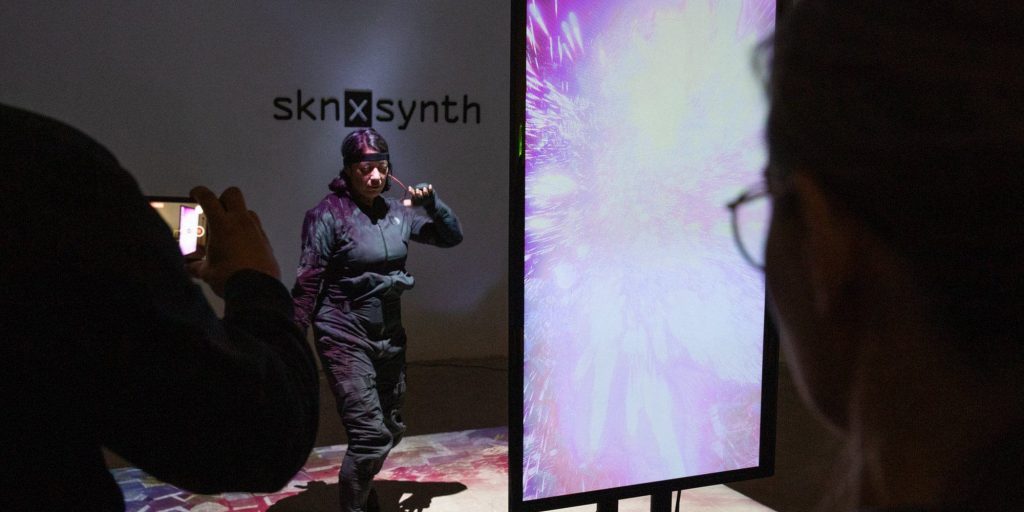 SKNXSYNTH, Sept 12th, 12h – 13h CEST
Performer: Anna Pompermaier (AT), Project Artists: Cenk Guzelis (AT), Josecarlos Florez (PE), Mohsen Hazrati (IR)
A xenotransplantative skin
Live Performance/ Digital interaction
The xenotransplantative skin project behaves as a digital skin that interfaces human and non-human entities to change spatial perception, create sensual friction, construct a self-image through detachments from bodily self and a space of negotiation between the self and the other self, oscillating between virtual and physical.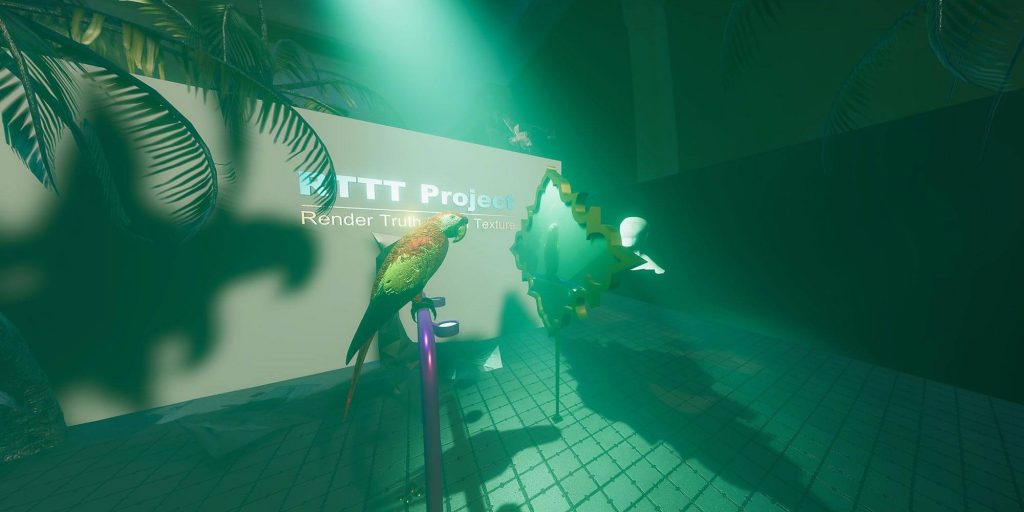 QUINTESSENCE PRIZE, Sept 13th, 12h – 12h55 CEST
Quintessence Dome Lab Award Ceremony
Award ceremony/ curated visit to the winner installation/ panel discussion.
QUINTESSENCE DOME LAB is a 4 weeks artist residence organized by Espronceda, Institute of Art and Culture (IMMENSIVA) in collaboration with Mira Festival, UCA, MEET Digital Center Milan, Helsinki XR Centre and with the funding of Institut Ramon Llull.
The participants will create an immersive project in different teams. In this ceremony the winner will be announced and the work showcased in a live connection.
Presented by Alejandro Martín in conversation with the artists. Artistic Director of IMMENSIVA.