ARTSHARE Festival & Conference
Hope for Future – Reshaping and reinventing Science & Technology through the Arts
Festival & Conference
28th – 30th June 2022
Lisbon, Portugal
What can we do now in order to create better hopes for the future?
Hope is the raw material that gives us purpose and sparks determination towards action. In a world of limited natural resources and a lot of uncertainty about the present and the future, pushing technological and innovation boundaries in order to build a sustainable and resilient world is an urgent necessity and a matter of survival.
ARTSHARE Festival & Conference will take place from 28th to 30th of June at The Factory in HubCriativo do Beato, Lisbon. The topic of this first edition is "Hope For Future – Reshaping And Reinventing Science & Technology Through The Arts". In the context of artistic creativity and digital transformation in industry and society, the event will allow industry leaders, tech developers, entrepreneurs, innovators, research centres, decision-makers and artistic communities the opportunity to promote transnational dialogue, diversity, and environmental awareness as core values.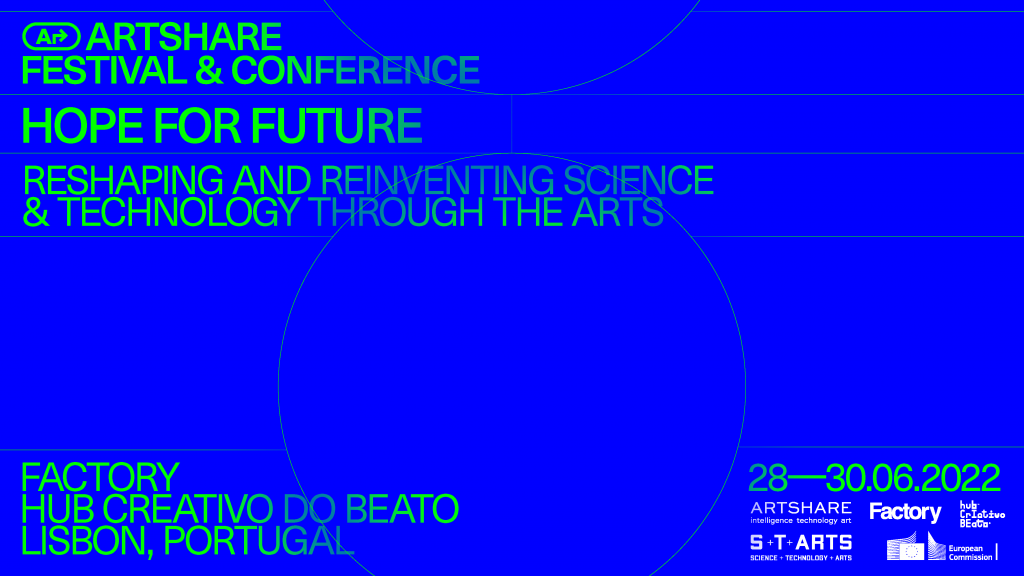 In the context of digital transformation, artworks have the potential to be representations and demonstrations of concrete digital applications. As such, artistic expressions are essential for the communication of science and technological innovations in order to build a connection and experience with its potential users. Artshare Festival & Conference aims to create the space for demonstrating concrete solutions based on the latest technological innovations, for discussing ideas, discovering opportunities, fostering networking and collaborations among professionals, innovators and creatives who share the same flame to change and for creating a future that meets the needs of present and future generations. By bringing together innovative, creative and technologically advanced crowds from Europe and beyond, the event aims at creating an experience that will bring you the connections, inspirations and solutions to take your work to the next level.
More information soon at artshare-festival.com!