CODAME ART+TECH Festival 2020: "JOYNT: Connect, Create, Celebrate"
Festival
December 11 through December 19 2020
9 a.m. - 6 p.m.
CODAME is inviting everyone to JOYNT forces to nurture Diversity, Equity, & Inclusion within the art and tech community!
Artists are innovators and producers of creative and extraordinary ideas and visions. Experiencing art and artistic processes is an important opportunity for learning and exploration. Even more so, collaborative art is a transformational force to strengthen the community and enhance well-being. CODAME invites you to become an active participant at their Festival where you can connect, create, and celebrate with their Artists.
At the festival you will be:
Connecting with the community, encouraging interactions and learning from each other;
Creating tangible outcomes in collaboration, such as building art together, or creating a movement with people from different backgrounds and cultures;
Celebrating artwork by sharing your creations.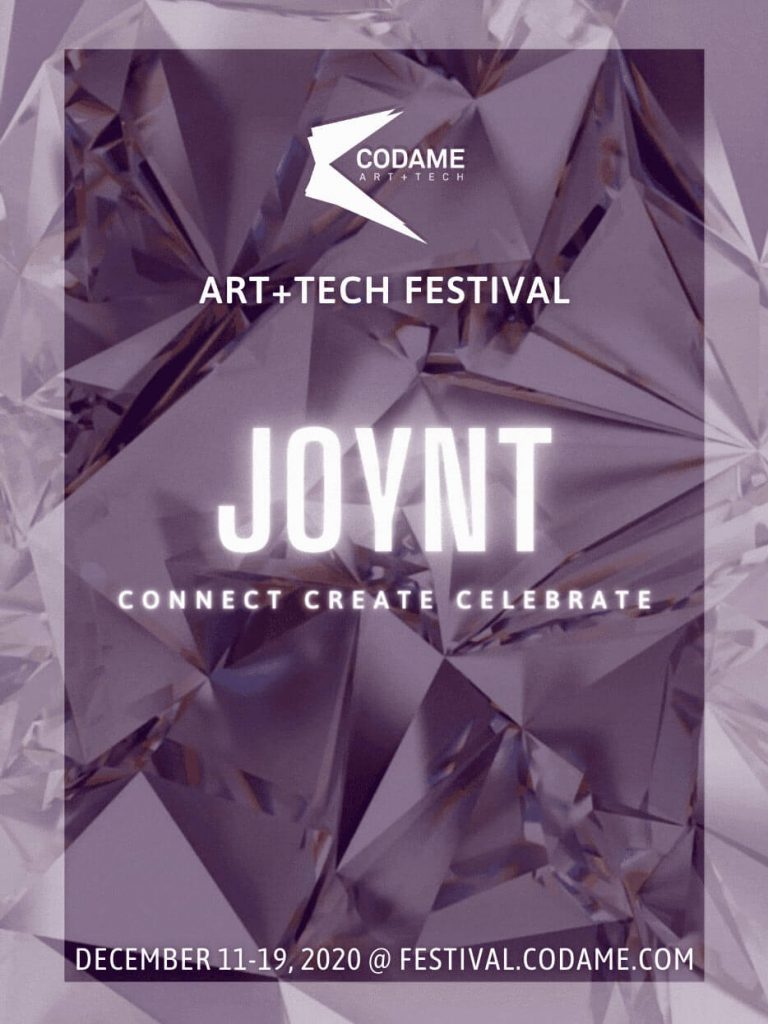 Call for Proposals
The Festival is seeking for projects that promote and encourage collaboration. They are interested in a wide-range of collaborations, projects, and group configurations. For example, groups might work exclusively with each other on a project (e.g., collaboratively create a project showcased at the festival) or might facilitate events open for our entire art + tech community (e.g., roundtable or workshops).
You are welcome to build on ongoing work and existing collaborations. Projects should relate to art+tech this year's theme of JOYNT: Connect, Create, Celebrate.
Submit your proposal by November 1st, 2020.
Decisions will be announced by November 15th, 2020.
ABOUT CODAME
CODAME sparks visionaries with playful workshops and an inclusive ART+TECH Festival, running since 2010. CODAME celebrates the value of creativity through inspiring experiences like art projects, sales, performances, and installations.
Do you know how to say Codame? Enjoy their video gathering several people opinions: